rmbrME has released beamME CV 1.0, a new application for the iPhone. It normally costs $10, but the unemployed and beamME pro owners can get it for $7 instead.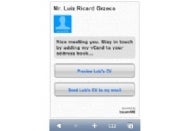 BeamME CV is designed to people networking for jobs. It helps you distribute resumes, cover letters and electronic contact cards to prospective employers — no special software is needed to retrieve your package.
The data is in a format that can be read on any mobile phone or computer, and beamME CV is free from advertising, according to the developer. The cover note, resume and business card is professionally formatted. You can upload your resume in any popular format, including PDF, and your cover note can be customized for each interaction.
BeamME CV also enables you to tag each new contact with information on where you've met (using the iPhone's geolocation feature), and you can view your complete history and reconnect with contacts easily, as well.
Requirements call for an iPhone or iPod touch with iPhone 2.1 software.