At a Glance
Expert's Rating
Pros
Fast
Superior-quality black text
Cons
No flatbed scanning
Networking available only though OS X printer sharing
Our Verdict
You won't see much ink (or toner) spilt over monochrome printers these days, but nevertheless they remain the best option for many small offices and home businesses. Though not as sexy as their color cousins, monochrome printers are still an attractive solution for many consumers. The compact HP Laserjet M1319f multifunction device is ideal for producing text documents quickly and can affordably perform many duties necessary for a small business: copying, faxing, duplex printing, and scanning.
The laser-based M1319f is about as wide and deep as a conventional ink-jet multifunction device, but is about twice as tall. At 22 pounds, it's one of the lightest laser printers we've tested. The exterior is a standard plain gray hue, and its interface is riddled with simple buttons and a small LED screen. While you can modify certain settings for the fax and copier, most functional adjustments will have to be conducted via your computer—the menus on the interface aren't particularly user-friendly, so you'll want to do most of your modifications on your computer screen anyway.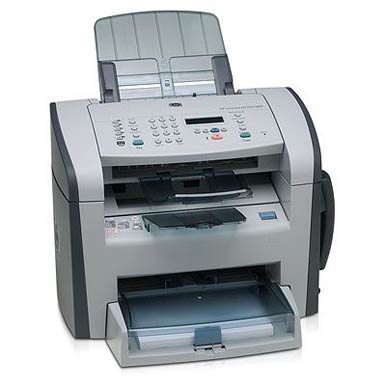 The M1319f doesn't have PostScript (important for some graphics applications) nor does it have Ethernet or an Ethernet option. The device connects to your Mac via USB 2.0, and you can share the printer over the network by configuring your Print and Fax System Preferences.
The obvious drawback of the M1319f is that its black-only toner is not well suited for photo printing. One of the printer tests we usually run involves a 22MB color Photoshop image; we exempted the M1319f from this test. Color copying was similarly not tested, and there weren't any memory card slots for us to fiddle with in case we wanted to load photos. The M1319f is meant to produce business documents quickly and with great quality. Fortunately, that's exactly what it does.
In our time trials, the M1319f produced some strong scores. The M1319f finished our 1-page Word test in 7 seconds; this score bests by a few seconds the Oki C6150dn ( ), a color laser workgroup printer. Our 10-page Word document test finished in a little over 40 seconds, putting it among the fastest times we've seen for a consumer laser printer. It was even slightly faster than the C6150dn in our 4-page PDF test, though its score of 27 seconds comes with the caveat that the C6150dn printed the document in color, while the M1319f only had to deal with black and white.
Timed trials: Print
| | |
| --- | --- |
| 10-page Word test (Normal) | 0:41 |
| 1-page Word test (Normal) | 0:06 |
| 22MB Photoshop image (Best) | N/A |
| 4-page PDF (Normal) | 0:27 |
Times are in minutes:seconds
Timed trials: Scan
| | |
| --- | --- |
| 8-by-10-inch photo, 600 dpi scan, 24-bit | 0:47 |
Times are in minutes:seconds
Jury tests: Print
| | |
| --- | --- |
| Graphics: Fine lines and gradients | Good |
| Text quality (1-page Word document at highest quality) | Superior |
Scale = Superior, Very Good, Good, Fair, Poor
Jury tests: Scan
| | |
| --- | --- |
| Color | Good |
| Clarity | Good |
Scale = Superior, Very Good, Good, Fair, Poor
In addition to being fast, the M1319f produced some strong image quality results in our jury tests. According to our jury, the text was of Superior quality and thus ideal for a business environment seeking professional-looking documents.
However, the printer was not as well suited to graphic printing. Our jury was not impressed with the four-page PDF document produced by the M1319f. On the fine lines and gradient test, the printer was only awarded a Good score, with a loss of detail in certain areas and an inability to print smooth gray gradients.
Though the M1319f can't print color documents, it can scan them. The absence of a flatbed scanner—documents to be scanned are instead drawn through an automatic document feeder—really hurt the M1319f in our scanning tests, which are primarily graphics tests. We scanned our standard color test photo using the automatic document feeder and then printed the file on an Epson Stylus Photo 2200. The color appeared greenish to our jury and only earned a Good rating. The clarity was similarly only Good. Frustratingly, white streaks appeared when we scanned certain color documents; this led us to believe that the automatic document feeder, while handy for printing and faxing, was a poor instrument for graphic copying and scanning.
It costs $78 to replace the toner cartridge in the printer. This is a lot cheaper than competing laser printers because you only have to replace one cartridge rather than several color cartridges. HP claims that you can get a full 2,000 pages of printing from a single cartridge, giving the printer a cost per page of about $0.04. The company doesn't offer a higher-capacity cartridge, but will sell you a two-pack for $139, bring the price per page down to $0.03.
Specifications
| | |
| --- | --- |
| Print resolution | 1,200 x 1,200 dpi |
| Scan resolution: Optical | 600 dpi |
| Max scanning bit depth | 24 bit |
| Connection | USB |
| Paper sizes | 3 x 5 to 8.5 x 14 in, 5.83 x 4.13 |
| PostScript version (laser only) | n/a |
| Installed RAM /Max RAM | 32 MB |
| Cost to replace ink/ toner cartridges | $78 |
| Weight (in pounds) | 22 |
| Dimensions (height x depth x width, in inches) | 18.4 x 17.3 x 18.1 |
| Paper capacity | 250-sheet media input tray, 10-sheet priority slot, 30-sheet document feeder |
| Special features | Fax, duplex printing, Energy Star rating |
Macworld's buying advice
Monochrome printers don't get a lot of attention these days, but businesses can still take advantage of their specialized features. If you don't require a printer for color photo printing, color copying, or creating brochures with detailed graphics, then why bother spending money on a multifunction device with these attributes? The LaserJet M1319f will quickly produce high-quality text documents, and also offers faxing and passable scanning abilities. That's all some businesses need.
[Chris Holt is an assistant editor for Macworld.]