Data Robotics' Drobo "storage robot" has proven to be a hit among consumers, with the company selling more than 60,000 of the automated storage devices during the past 18 months. Now Data Robotics hopes to capture a new audience—creative professionals and IT managers—with the latest addition to the Drobo line.
Announced Tuesday, the DroboPro offers more drives, more capacity, and more versatility to the user than the original storage device. The new eight-drive system can connect to your computer via USB 2.0, FireWire 800, and now iSCSI. Dual disk redundancy, "smart" expanding volumes, and new triple interface versatility also highlight DroboPro's features.
Data Robotics has steadily improved each iteration of Drobo with every launch. The original Drobo unit offered only USB 2.0 connectivity; the company added FireWire 800 connectivity to the 2008 model. This new addition to the Drobo family sports an Ethernet port to allow for an iSCSI connection between the DroboPro and your Mac's Gigabit Ethernet port or to a network server.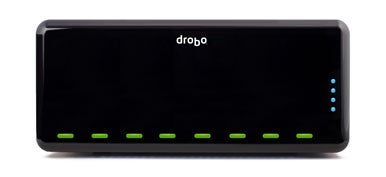 Unlike the DroboShare, a companion product that allows you to share your first- or second-generation Drobo as network-attached storage (NAS), you can't directly share the DroboPro over your network. But you can share the DroboPro's drives over your network through a host computer.
According to Marc Fuccio, Data Robotics' senior director of products and markets, the Drobo dashboard program will install an initiator and configure the DroboPro for Mac quickly and easily. The DroboPro's iSCSI connection is designed to allow for fast block level data transfer between a Mac and the DroboPro. No special cable or card is required.
The DroboPro also offers "smart volumes," a feature aimed at small businesses and IT managers who worry about properly estimating departmental capacity requirements during setup. When you create a volume on DroboPro, it will start small and grow as needed, eliminating capacity guesswork. Users won't have to resize or migrate volumes. Instead, smart volumes pull storage from the common pool of disk space rather than a physical disk allocation. A light will turn on when you need to feed the Drobo a new drive to further grow a volume.
Drobo uses a simplified RAID (Redundant Array of Inexpensive Disks) technology to protect against drive failure. The device has slots for up to eight Serial ATA (SATA) hard drives that are hot-swappable, self-monitored, and self-managing.
The DroboPro can store up to 16TB of data. Drives do not have to have matching capacities, so you can pop in virtually any drive you have laying around. If a drive were to fail, you can swap in a new drive without losing any data. With a click of a button, the new DroboPro allows for dual disk redundancy and protection against two simultaneous drive failures. The DroboPro fits on your desktop or can be rack mounted with the optional DroboPro Rack Mount (3U).
DroboPro retains its predecessors' easy-to-understand light system. A blue LED display tells you in 10 percent increments how much storage space the Drobo has left.
Data Robotics sells the DroboPro in its base configuration without drives for $1,299. You can also buy a DroboPro that comes prepopulated with drives of your specification, though that'll cost you more.
Fuccio sees the DroboPro as ideal for professional users who have large amounts of video and audio data, and therefore ever-pressing storage needs. In fact, he credits the "continued demand from the creative community" as one reason why the Drobo line has been so successful.
The company is taking orders now, with the DroboPro shipping shortly.