It was my birthday, 1984. I'd spent the better part of a month convincing Dad that a new computer would help me. I'd use it for homework. I'd learn how to program. Oh, who was I kidding? I wanted to play games like my neighbor, like I'd been reading about in gaming magazines.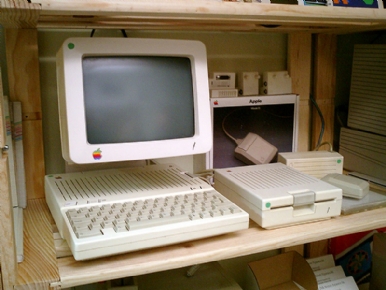 But when I woke up with an Apple IIc sitting next to my bed that fateful morning, I don't think I really knew what was in store. This isn't some Apple-fanboy love story. This is a nostalgic trip down monochromatic memory lane, a tale of how one nerd became a full-on, full-time gamer. With the help of Virtual Apple II, you're coming along for the ride.
A Virtual Apple
If you're unfamiliar with Virtual Apple II, the Web site is one big Apple emulator. You can run over 1000 Apple IIe/IIc/IIgs applications through Active X controls in Internet Explorer. Now, I will say up front that I thought the joystick controls were wonky with a couple games in the browser, but an added bonus is that the site provides disk images for the games so that you can download stuff for offline play in an emulator. Rather than force you to thumb through everything, let me pinpoint a couple of my favorites, in alphabetical order.
Archon: At its core, this is a chess game where the game pieces beat the living snot out of one another. Gotta love a game of strategy and arcade skill.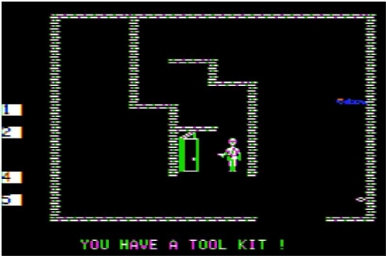 Beyond Castle Wolfenstein: Before Wolfenstein went 3D—and kick-started the first-person-shooter craze—this game came out, over 20 years ago. This classic adventure shooter has you infiltrating Hitler's bunker to place a bomb—and then you have to get out alive.
The Bilestoad: Forget Mortal Kombat. Bilestoad is a multiplayer match where you win by chopping limbs off your opponent. Y'know, happy-go-lucky stuff.
Chivalry: Anybody who loves the idea of a digital board game should check out Chivalry. As in the Mario Party titles, you move along a virtual board and play through a number of minigames in order to save the princess.
Hacker: Truly, a classic adventure game where you've accidentally hacked into the middle of a world-domination plot.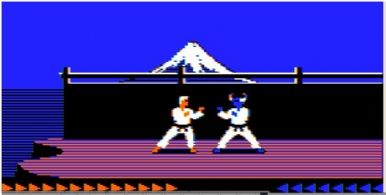 Karateka and Prince of Persia: I love the Prince of Persia games, especially the 2D one on the Apple that started it all. That game had some breakthrough animations and graphics back in the day. Running, jumping…this game had everything, and the clock was constantly ticking. You had only 1 hour to save your girl's life. But for some reason, Karateka always stuck with me more. Something about the art style, maybe—more likely, it was because Karateka had 100 percent more kung fu.
Lode Runner: A classic platform chase game where you can melt the floor to dodge attackers.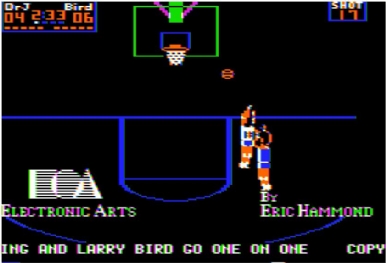 One on One—Larry Bird vs. Dr. J: Electronic Arts knew from the beginning to use big-name talent to get people's attention—in this case, two basketball greats who square off in a pickup game of hoops.
Oregon Trail and Where in the World Is Carmen Sandiego: I know, it's crazy, but someone was able to make educational games that were actually fun at one point. Granted, you can play Oregon Trail on Facebook these days, but it's still nice to see the game in its original form.
Rescue Raiders: Some people liked Choplifter, a game where you airlifted civilians out. Others liked the Ancient Art of War, a game often credited as the first real-time strategy title. Me? I liked Rescue Raiders, because it was a brilliant mashup of the two. Shoot down the enemy, send in paratroopers, and march your forces across the battlefield. Get the ambulance to the other side to win.
Sundog—The Frozen Legacy: To me, this game felt like the spiritual grandpappy of open-world games. Way before Grand Theft Auto went on a vehicular rampage or Elite took off into orbit, Sundog was a great space-trading action adventure. You take your ship across the galaxy fighting space pirates (as your ship gets blasted, you have to reconnect circuits to get it running again) and hauling cargo, and you fight off muggers in the streets of alien worlds.
Taipan: Another game that taught me the ways of capitalism, Taipan had you ferrying goods between ports for profit. Of course, maybe I liked it because it was the first game where I figured out a cheat code: Borrow money from a loan shark and then pay back more than you owe. In no time you'll be able to sneak out of town with an unearned fortune. I like to call this the Bernie Madoff Maneuver.
Ultima: A truly classic role-playing series. Ultima III: Exodus clinched it for me with the party system and turn-based combat that just about every other RPG has since aped.
Wasteland: Anyone who has played any of the Fallout games (you have played Fallout 3, right?) needs to learn their classic-gaming history. This title inspired it all. Very Road Warrior meets Monty Python.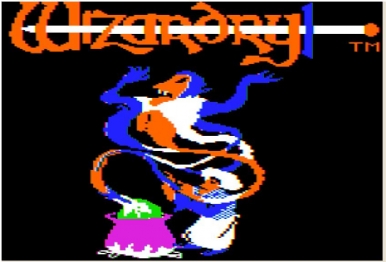 Wizardry—Proving Grounds of the Mad Overlord: I'd never forgive myself if I didn't mention this maze-based role-playing game. This is the first computer game that really had me hooked—way more than anything I ever wasted time with on an Atari VCS.
Zork: The quintessential text-based adventure game.
Looking back all these years later, after countless game consoles and PC upgrades, I can see how a lot of great games on modern machines sprouted from these humble beginnings. And I'm willing to bet that if you polled game developers, many of them could pinpoint some classics (maybe even a couple from the above list) that inspired them to become game designers.
What can I say? I'm glad my Dad saw straight through my BS and still got me that computer, anyway. And in case I ever forgot to say it: Thanks, Pop.
PC World Senior Writer Darren Gladstone geeks out over gadgets, games, and odd uses for humdrum tech. In other words, he's a nerd—and he's okay with that. Need even more nerdity? Follow gizmogladstone on Twitter for more time-wasting tips.