As had been widely expected since the March debut of the new Mac Pros, Apple's Xserve took the Nehalem plunge Tuesday. Specifically, the 1U server now runs on a Xeon 5500 series processor, which feature the Nehalem microarchitecture that promises to improve speed by eliminating bottlenecks.
The latest Xserve sports a single 2.26GHz Quad Core Xeon processor with 8MB of fully shared L3 cache; the processor has an integrated memory controller with three channels of 1,066MHz DDR3 RAM, while the server offers the option of a 128GB solid-state boot drive.
Apple isn't the only company with 1U servers powered by 5500 CPUs, though; HP and Dell feature similar offerings. So I thought I'd compare the latest Xserve with these other two servers to see if Apple's product remains price-competitive to the other servers in its class.
You said you was high-class…
The "within its class" distinction is important here, because while Apple has a simple line of dedicated server hardware—just the one product—both Dell and HP have far more options falling both above and below the Xserve's price range. So it is entirely possible to get a solid 1U server from Dell or HP for far less than what you'd spend on an Xserve. But is it possible to get an Xserve-equivalent server for far cheaper?
(Oh, and I know, IBM, Sun, and white box Intel are options, but I wanted to keep this comparison simple, and HP/Dell are the most common competitors for Apple in the small-to-midsize-business server space.)

I spec'd out a fairly generic Xserve, going big on CPU and hard drive space. Such a server would be ideal for a company that either doesn't have a lot of external storage, (NAS, SAN, or Direct-Attached RAID) or wants the Xserve to have a lot of space for various reasons. Setting up the Xserve this way also lets me apply a consistent philosophy to the HP and Dell options, even where it was impossible to match specs.
When configuring this Xserve, I didn't add the 128GB SSD boot drive, a $500 option. I also left out support options, as in the real world, companies are going to have a nigh-infinite amount of options with any of the three companies,—what would be de rigeur for one company would be ridiculous for another.
Finally, all three of my servers come from the Apple, HP, and Dell online stores. I'm well aware of corporate discounts from each of the three companies, but again, in the interests of sanity and the fact that my discounts may not be yours, I left them off completely.
Here are our three contenders:
Apple's Xserve
Two 2.93 GHz Quad Core CPUs
12GB of DDR3 ECC RAM
Hardware RAID card
Three 1TB SATA drives, 3TB total space
Dual Power Supplies
Mac OS X Server
Mini DisplayPort-to-VGA adapter
Total cost: $8,738
HP's DL360 G6
Two 2.66GHz Quad Core CPUs
12GB of DDR3 ECC RAM
Hardware RAID
Eight 250GB SATA SFF (Small Form Factor – 2.5-inch) drives, 2TB total space
Dual Power Supplies
SUSE Linux Enterprise Server 1-2 CPUs
Total cost: $8,857
Dell's PowerEdge R610
Two 2.93 GHz Quad Core CPUs
8GB of DDR3 ECC RAM
Hardware RAID
Six 300GB SAS drives, 1.8TB total space
Dual Power Supplies
SUSE Linux Enterprise Server 1-2 CPUs
Total cost: $9,289
The winner is…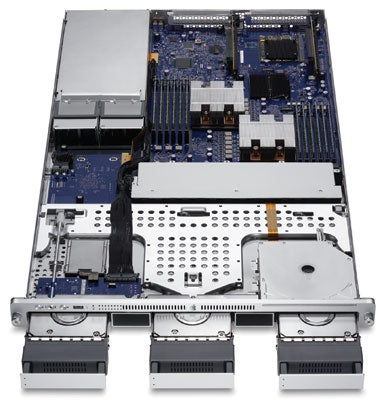 Well, no one—this isn't a marketing campaign or a race. All three vendors have solid offerings in that class of server, with some interesting differences. For example, Apple and Dell both charge extra for a RAID card, while HP doesn't. Dell only offers SAS drives, (a big reason for its price hit); Apple only offered SATA. Apple's drives are full-sized 3.5-inch drives, Dell and HP only offer SFF/2.5-inch drives, (a big reason for why the HP, even with eight drive bays, still had less total storage than the Xserve.) Dell charges extra for the second CPU, and only offered 8 and 16GB RAM options, whereas HP ships with 12GB standard. HP didn't have a 2.93GHz CPU offering. I picked SUSE Linux Enterprise for Dell and HP because it includes an unlimited user license, similar to how Apple packages Mac OS X Server on the Xserve.
The Xserve definitely wins on simplicity, but there are some penalties. The Xserve is only 1U high, but it's just over 30 inches long. If you have older racks, or you didn't buy your racks with the Xserve in mind, that might bite you in the keister. If you want a lower priced server from Apple—or perhaps one that's more basically-provisioned—you're out of luck. You get the Xserve, and you get some basic Xserve options. You don't need a Nehalem? Too bad. You want SAS or SFF SATA? Too bad. That's not necessarily a negative, but just a reminder that there's always a tradeoff for everything.
Dell and HP give you a far bigger range of servers, from wee 1U "just a front end for something else" models to great hulking monsters that will run a largeish city via VMWare. However, that can add to the challenge of figuring out what you want to buy—HP could definitely learn a lot from Apple about how to set up a Web site configuration page for a server. Dell's site is somewhat better, but again, that's the price for a wider range of options: more complexity. Again, no free lunches.
What we learned
So yes, within the high-end 1U server class, Apple's latest Xserve is priced quite competitively, over-emotional insistence to the contrary from CIOs and pundits notwithstanding. If what you need is in that class, then Apple's Xserve is indeed a good choice. If your needs stray wildly from the Xserve's class, then it can become over-priced or under-powered. Let your computing and network needs and overall environment, rather than any ideological purity be your guide, and you'll do well.
[John C. Welch is a senior systems administrator for The Zimmerman Agency, and a long-time Mac IT pundit.]