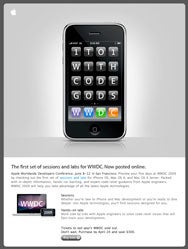 Apple on Tuesday posted a preliminary list of its technical sessions and hands-on labs for June's upcoming Worldwide Developers Conference. The conference will be held from June 8th through 12th in San Francisco at the Moscone Center West.
The sessions are divided by focus: Mac, iPhone, and IT. Apple promises in-depth information, hands-on learning, and expert code-level guidance from Apple engineers on iPhone OS, Mac OS X, and Mac OS X Server.
Each session or lab—with topics such as "Adding Authentication, Authorization, and Access Controls with the Open Directory Framework," "Building Localized Mac and iPhone Applications," "Cut, Copy, Paste, and Undo on iPhone," and "Introduction to OpenCL"—includes a description of what it will offer to developers who attend the annual event.
Registration for the conference costs $1,295 until April 24th, at which point the price will go up by $300. Current ADC Student Members and student Team Members in the iPhone Developer University Program can apply for a WWDC Student Scholarship for a free WWDC conference pass.