The calendar may have been around since the days of the Egyptians, but calendaring software has yet to be perfected. Pdashes.com is the latest to try its hand at improving the mobile calendaring experience with its $3 aBetterCal for the iPhone.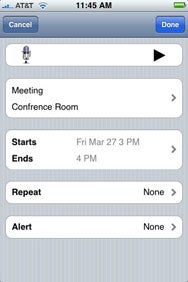 If you're familiar with the iPhone's built-in calendar, you'll be right at home with aBetterCal. The button layout is even similar, as it retains the basic functionality of the iPhone's calendar.
But there's more to aBetterCal than just a resemblance to the iPhone calendar's core feature set. It also attempts to offer extra functionality that you can't get with the built-in app—integration with Google Calendar, Voice Notes recording, and support for Yahoo's Upcoming service for local events. (The Voice Notes feature is likely why pdashes.com says this app is only compatible with the iPhone.)
For the most part, aBetterCal functions as advertised. However, this was not always the case. Upon its first release, aBetterCal was subject to major flaws and did not function. With an update, it now operates fine, so early adopters who gave up on the app may want to give it a second look.
Unfortunately, there is no support for adding multiple calendars, or assigning events to specific calendars. Due to limitations of the iPhone operating system, the alerts built in to the app can only notify you if you are running aBetterCal. (Ideally, this will change once the iPhone 3.0 update arrives.)
While it had a rocky road, aBetterCal has become a viable solution for anybody who wants a native iPhone interface with Google calendar.
aBetterCal is compatible with any iPhone running the iPhone 2.2 software update.
[ John Fuller is a freelance designer and writer from Texas.]