As cool as a fast-paced first or third-person shooter, adventure or role-playing game may be, there's a part of you that wants a puzzle to sit down and figure out for a while.
Even if the puzzle drives you somewhat insane in the process.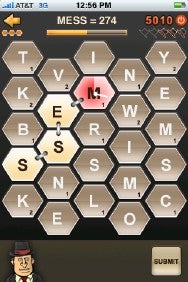 Enter WordsWorth, an addictive puzzle game for the iPhone or iPod touch developed by Robosoft and published by 99Games Online. Perhaps best described as "Scrabble on steroids," WordsWorth challenges you to use assorted tiles to link words together to earn points to advance to the next of 30 levels.
This process is made more interesting with the addition of blank tiles that can substitute as any letter, timer pieces that can destroy your entire tile library if not used before they detonate and a "Shake" feature in which you can press a button or literally shake the iPhone to receive a new set of letter tiles.
Although not as flashy as some marquee iPhone titles, there's a polish and attention to detail that makes WordsWorth work. Sharp graphics, good detail and an accessible interface create an inviting environment while great sound effects add to the energy of the game and keep you interested in solving the next puzzle.
WordsWorth takes an unconventional approach to the idea of forming words out of random tiles. Where words can only be formed horizontally or vertically and from left to right in Scrabble, Wordsworth challenges the player to look at an octagon-like grid and form words from tiles loosely connected to each other, despite the direction. The end result is an interesting title that leaves you holding the iPhone and sorting out possible words from the tiles in front of you.
A cool use of tactical elements helps the game and what might be considered a reasonably sedate puzzle title gets a shot in the arm when the game drops in multiple timer pieces that must be used and removed from the board before they explode. Take on the game's "Timed" mode and the effect is only multiplied; you have a set amount of time to form enough words to clear the level, now get to work. Finally, there are no easy outs. The "shake" feature can only be used a certain number of time to replenish your letter tiles and each shake rains down additional timer pieces which must be quickly removed before they explode and end the game.
Other nifty features include both local and global scoreboards as well as a "pick up and go" save system which saves your progress on the fly. This works out perfectly if you receive a call or have to check an e-mail or contact during your game, and then want to return to where you last left off (you know, the important things).
Unfortunately, there's room for improvement. Though the game's sound effects are a welcome element, WordsWorth's theme music becomes irritating within moments and makes one glad there's an option to disable it as well as customize other game settings. Though stable, the game can feel somewhat buggy, as words occasionally had to be entered multiple times before registering.
These shortcomings aside, WordsWorth is a puzzle gamer's dream come true, well worth its $2 price tag on the App Store and could be truly great with a few bug fixes to round out the title. (A free lite version limits the fun to three levels, instead of the 30 levels of the full version.)
WordsWorth is compatible with any iPhone or iPod touch running the iPhone 2.1 software update.
[Chris Barylick is a frequent contributor to Macworld and is somewhat frightened by people who take Scrabble a bit too seriously.]