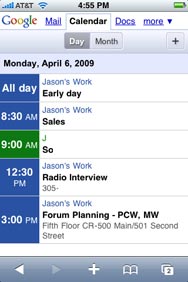 On Tuesday Google gave the iPhone—as well as its own Android phone operating system—a great big bear hug by rolling out new mobile versions of Google Mobile Web Calendar and Gmail that are specifically optimized for the WebKit-based web browsers used by the two phone platforms.
In two postings to the Google Mobile Blog, Google product managers detailed the updates to the products. Mobile Web Calendar now supports editing events on devices, including modification of attendance status and adding or removing guests for an event. To set up the calendar, point your iPhone's Safari browse to google.com/calendar/gp (users of Google Apps for Domains should use google.com/m/a/yourdomain/ and then click on Calendar).
Of course, if you're really addicted to Google Calendar, you could also try to use Google's previously-announced Google Sync for Google Calendar, which syncs your iPhone with Google's servers for calendar and contacts via Microsoft Exchange's ActiveSync protocol.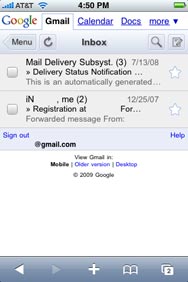 Likewise, users of Google's Gmail service have always been able to use the iPhone's native Mail client to check their mail. But if you prefer a lightweight Web interface or simply don't want to add your Gmail account information to the particular iPhone or iPod touch you've been using, the new Gmail web interface might be more your style. The new interface, which requires iPhone/iPod Touch OS version 2.2.1, works "with aggressive caching and by leveraging new browser technologies," according to Google Mobile engineer Joanne McKinley.
In a posting to the Gmail blog, Google engineer Rob Kroeger said that the Gmail web app uses Safari's built-in database storage to enable offline mail-browsing support.
Google says this new Web interface lets you quickly select and manage messages, offers an improved look and feel for messages, and improves the display of labels. iPhone Gmail users can access the new features from Safari simply by going to gmail.com; users of Google Apps for Domains should visit mail.google.com/a/yourdomain.