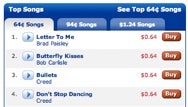 Variable pricing has appeared on the iTunes Store, but don't think you'll necessarily be safe by retreating into the arms of one of the Internet's other many digital music vendors. Major sites like Amazon and Walmart appear to have also fallen prey to the same tiered model that now haunts the iTunes Music Store.
CNet reports that Amazon MP3 has seen a number of tracks, including several songs from its top 100 downloads list, raised to the same $1.29 price point as iTunes's highest tier, with other tracks going for 79 cents or 99 cents.
Brick-and-mortar mogul Walmart has likewise enacted different pricing levels for its MP3 downloads, although its prices still tend to be slightly lower than its competitors, with individual tracks selling for 64 cents, 94 cents, or $1.24. Real's Rhapsody and music download service Lala have also added tier pricing, with a blog post on the latter's site calling it "an industry shift."
While the exact rubric used to determine the pricing level of different songs is unknown, it appears to have less to do with the age of the tracks in question and more to do with their popularity. That's not necessarily the case across the board though, since Ars Technica reports that sometimes the same track is going for different prices on different services. If the lowest price is what you're looking for, then we recommend resources like Web site Download Shopper or iTunes add-on Advantageous MP3 which help compare prices between different services.
The introduction of variable pricing not just within services but between services may signal the beginning of a new phase in online music sales that increases competition between various sites and breaks Apple's hegemony over the market—precisely what the record labels are hoping for.