With Apple providing only infrequent updates to the status of the App Store, and with those largely confined to telling us simply how many applications are available for sale, it's little surprise that third parties have taken it upon themselves to try and figure the breadth and depth of the market.
On Tuesday, comScore, a market research firm that specializes in Internet-related data, released the results of a survey of U.S. iPhone owners that provides insight into which applications have the highest market penetration—that is, are most frequently installed by users.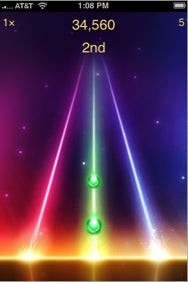 According to comScore's data, Tapulous's Tap Tap Revenge (pictured) is the most popular app, with 32 percent of iPhone owners having installed the game, followed by Stylem Media's Backgrounds—an app I'd admittedly never heard of before—at 27 percent and FlipSide 5's Touch Hockey: FS5 at 26 percent. Indeed, 12 of the 25 top installed applications were games, with the top non-game applications, aside from Backgrounds, being social networking clients like Facebook and MySpace. Many of the top applications are free—including Tap Tap Revenge and Backgrounds—with Namco's $6 Pac-Man being the top paid app on the list at fifth place.
In addition to the installed base numbers, comScore has used its data to provide other information about iPhone app customers: for example, they are three times more likely than average Internet users to visit gaming Web sites and social network and entertainment sites like Twitter, Hulu, and Digg. They also tended to be from wealthier households, being 32 percent more likely to belong to one making at least $100,000 per year; more than 54 percent come from households earning $75,000 or more annually.
ComScore isn't the only firm studying the iPhone application market. Pinch Media, a company that provides ads and analytics information to iPhone developers, has also been collecting information. In a blog post, Pinch Media co-founder and CEO Greg Yardley said that comScore's findings meshed with his company's own statistics and suggested that the combination of comScore's data with Pinch Media's own could yield more information.
Calculating from the two sets of numbers, Yardley concluded that the number of devices running iPhone applications is between 22 million and 23 million, which is close to three-quarters of the 30 million devices that Apple said it had sold as of the end of 2008. It goes to show that the App Store has permeated deeply into the fabric of what makes the iPhone such a desirable device, appealing beyond just those users who are technologically savvy.