iStat is a wonderful utility that goes beyond just your iPhone. Bjango's $2 app displays key iPhone statistics, but when paired with the free iStat Server for your Mac, iStat really begins to shine.
iStat displays your iPhone's memory, disk space allocation, network settings, and uptime and load statistics. Some of this information you could find elsewhere, but the rest is normally hidden. You can even view and e-mail your iPhone's unique ID and MAC address. Finally, there is a button which allows iStat to attempt to free extra memory.
But the real power of iStat comes when you pair it with iStat Server for the Mac. (Bjango reports it is working on versions for Linux and Windows.) Once you install iStat Server on your Mac—the app runs on OS X 10.4 and later—you can access its statistics remotely from iStat using either Bonjour or TCP/IP networking.
Read more…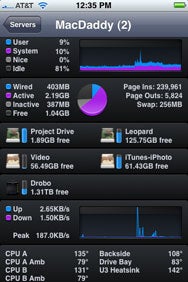 While iStat only accesses a handful of statistics for your iPhone, the app can generate a more comprehensive set for Macs with the help of iStat Server. In addition to memory, disk storage, uptime, and load statistics, you get CPU activity, network traffic, and even CPU temperatures. CPU activity and network traffic data are accompanied by colorful, real-time graphs. If all that wasn't enough, you get handy ping and traceroute tools.
If you use iStat in its standalone mode, it does little more than to peek into some otherwise hidden numbers. As for freeing memory, I found the results to be mixed—you're better off cycling power to really do that job properly. Viewing the stats of your Mac remotely holds much more possibilities, especially if you're a system administrator responsible for monitoring the health of a stable of Macs. If you're going to do that outside of your LAN, be prepared to do some port forwarding to establish the connectivity. Fortunately, extensive help is available on Bjango's Web site.
Unless you're the aforementioned system admin type or someone who loves to peer into and observe the statistics of your iPhone or Mac just for the heck of it, iStat will be of little value to you. But for those who see need this kind of monitoring, iStat does an excellent job of presenting you the information in a clean, clear interface.
iStat is compatible with any iPhone or iPod touch running the iPhone 2.x software update.
[James Savage is the host of the RetroMacCast a weekly podcast devoted to older Macintosh computers.]