Namco Networks on Wednesday announced the release of Galaga Remix for the iPhone and iPod touch. It's now available for download from the App Store for $6. A free "Lite" version is also available.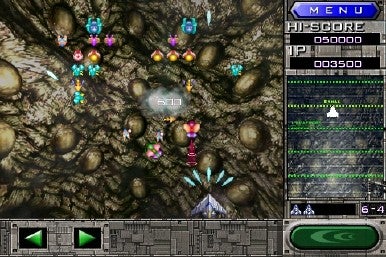 In Galaga Remix, you control a fighter ship flying through space as waves upon waves of insectoid aliens swarm your vessel. You fire missiles to destroy them in stage after stage.
Galaga Remix is a return to one of coin-op arcade gaming's bonafide classics, with a big twist. While you can play a picture-perfect version of the "original" Galaga, just as you remember it from the 1980s, a "Remix" version is also available that sports new sounds, graphics and challenges.
Three control modes have been developed — arrow keys, a "slider bar" and accelerometer-based motion.
The Remix mode features six unique boss battles, enhanced fighter unification system with nine power-up types and an all new Free Play mode that lets you choose from previously-cleared stages. An update to the "Dual-Fighter" mode in the original game has also been included.
The "Lite" version of Galaga Remix actually pre-dated the full version's release by a couple of days, so if you've been keeping up on new App Store game releases you may have seen it before now.