With the rash of music-based games available today on every gaming device, it is a refreshing change of pace to see a music app that simplifies music creation. TappyTunes from UtiliTouch offers a variety of songs which you control by the simple tap of your finger.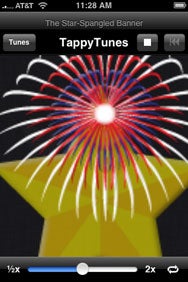 After selecting from one of the more than 80 built-in songs divided among seven categories, you simply tap anywhere on the screen one note or chord at a time. You control the tempo, and TappyTunes does all the rest.
If you're not familiar with a particular song, you have the option to play the song automatically from one-half to two times playback speed. Each time you tap, simple graphics related to the selected song are displayed under your fingertip. These graphics change size or spin, giving you a little visual treat while you tap out the song. The only challenge for you is to faithfully play the song as it was originally written.
TappyTunes does an excellent job of enabling one to play music without learning an instrument. Since the song library consists of traditional favorites and other familiar melodies you probably learned in school, it is also nostalgic as you try to remember those songs. TappyTunes would be an excellent way for younger children to become familiar with these popular songs by learning the melodies and tempos.
It would have been nice to have the option to display lyrics in addition to or instead of the simple graphics. This would certainly enhance the educational value and fun of TappyTunes. Sing-along, anyone?
Currently selling for $2, TappyTunes is well designed and a pleasure to use. It is something anyone can pick up and play in seconds. UtiliTouch has been good about adding to the song library and adding features, so perhaps TappyTunes will get the lyrics feature it so desperately needs.
If you want to give TappyTunes a try, you can download TappyTunes Lite for free and sample five of the songs.
TappyTunes is compatible with any iPhone or iPod touch running the iPhone 2.2 software update.
[James Savage is the host of the RetroMacCast a weekly podcast devoted to older Macintosh computers.]