"DRM" — never have three letters had such power to make gamers cringe. Digital Rights Management, or DRM, refers to technology to combat piracy, packaged with games and other software. I recently sat and talked with Hal Halpin of the Entertainment Consumers Association (ECA) to discuss the history and future of digital rights management and why a mutually agreeable compromise is no longer an unattainable goal to work towards.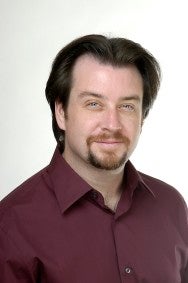 Prior to dropping by the Game Developers Conference in March where I met with him, Mr. Halpin was attending a Federal Trade Commission (FTC) conference in Seattle to discuss DRM. He was "representing consumers," at the table and seemed enthusiastic about the progress that had been made.
He listed three suggestions to the FTC. First, "DRM should be disclosed," he explained, meaning consumers should be able to easily identify on the outside of a game box a logo or icon that denotes DRM software contained within. Second, the ECA suggested a "simplification and standardization of the end user license agreement" (EULA). This way you "can understand what you're buying," and understand what rights and responsibilities you have as a consumer. Finally, "We also would like to with the FTC," Halpin explained. "We're transitioning from packaged goods to digital and licensed issues" and the industry has never encountered a problem like this before.
Over the past year, two games in particular were at the center of this DRM controversy. The first was Will Wright's Spore. While highly anticipated, the restrictive DRM software angered a lot of consumers. Some chose to not buy the game and others chose to intentionally pirate it as a way to express their anger to Electronic Arts, Spore's publisher.
Halpin has watched Spore's story closely. "Spore was an important moment of time," he concedes, "It showed publishers it wasn't just a groundswell of gamer backlash" that was affecting sales, it was something much larger. Electronic Arts eventually made some of the DRM software less restrictive, but its initial reaction was deemed dismissive by many and this "led to more of a backlash" as a result.
Halpin's ECA was drawn into the conflict because EA fingered both ECA and GamePolitics.com as "focal points" for consumer anger. But while the Spore episode left consumers frustrated and EA with a franchise that was having its sales significantly undercut by piracy, the event did have a silver lining for consumer/publisher relations, Halpin believes. Spore "marked the first back and forth" between consumers and publishers on the issue of DRM. People were beginning to listen.
ECA has more legitimacy than anonymous bloggers or unorganized gamers because of the expertise and professionalism of people like Mr. Halpin. On ECA's website, there are a number of position statements both outlining the right of consumers and the rights of copyright owners. The ECA is against piracy, but not pro or against DRM.
The other game that has become a focal for the DRM debate is 2D Boy's World of Goo. World of Goo is a brilliant independently developed award-winning puzzle game that is available for download but does not come equipped with any DRM. Unfortunately, because of the lack of DRM protection, the game has become one of the most pirated games out there. For an independent developer like 2D Boy, losing that money can have a devastating effect on a company's finances.
Halpin recognizes that World of Goo's situation represents a problem as well. He expresses his sympathy to games and publishers that don't use DRM, but hopes that his focus on building bridges can eventually lead to solutions for everyone.
Part of the problem with regulating the video game industry is that it's very different than music and film. It took an awkward decade for the respective industries to figure out market prices and in the mean time consumers pretty much did what they wanted, he explains. But "Video gamers are more vocal, [and] can focus on a solution." He hopes that by having a seat at the able the ECA can make the transition much better for consumers and publishers.
His optimism is drawn from experience. If you remember back almost ten years ago, computer game boxes were not standardized. They were massive bricks that took up a large amount of shelf space, especially the infamous Tomb Raider boxes by Eidos that were awkward quadrilaterals. He cites the Interactive Entertainment Merchants Association, a precursor to the ECA, as one of the reasons for the change in box size. At the time, some of the largest chain retailers decided to stop carrying computer games in stores because of the bulky box sizes that were taking up too much shelf space. So the IEMA standardized the boxes and helped fostered conversation. They also created the PC/DVD label you see on computer game boxes in store.
"When I was with the Interactive Entertainment Merchants Association (which merged with the Video Software Dealers Association in 2006), we standardized PC game packaging for a certain size. We did that in a self-regulatory environment, working cooperatively with the industry. It should be possible to do the same thing with [DRM and EULAs]."
While Halpin and the ECA are fighting the good fight on DRM, they are also active in guaranteeing first amendment rights, organizing action against anti-gaming legislation that regulates or restricts access to video games, and net neutrality. There are perks to becoming an ECA member, too; ECA members can get 10 percent off on Amazon.com for their gaming purchases.