Though mobile operators say they want more open phone platforms and are moving toward packet-based 4G networks, they are stuck between a future of being "dumb pipes" like DSL or cable operators and a present in which the bulk of their revenue still comes from the sale of voice minutes.
The arrival of Skype for the iPhone and BlackBerry platforms at last week's CTIA trade show brought the issue to a head. The most popular VoIP (voice over Internet Protocol) platform, which claims more than 405 million users, has now made it on to two of the hottest smartphone lines. A free Skype application is available now from Apple's App Store, and software for two BlackBerry models is set to become available next month in beta testing. Skype lets users make free calls to other Skype customers and inexpensive ones to traditional phones.
The announcements were met with mixed reactions from these carriers in transition. The future 4G technologies LTE (Long-Term Evolution) and WiMax are data networks, where everything is transported as a packet. Technically, that will make any pure 4G carrier with voice service into a VoIP provider. But operators are still trying to figure out how to shift their business models to that environment, as most of their money today comes from voice services that are vulnerable to competition from Skype and others. In 2008, data services still generated only 22 percent of U.S. mobile carrier revenue, according to the CTIA trade association, which sponsored last week's show.
Read more…
T-Mobile USA's CTO, Cole Brodman, pointed out the carriers' dilemma last month at the Dow Jones Wireless Ventures conference.
"By no means can we sit here and talk about an open platform … if I don't also look at VoIP," Brodman said. There are already VoIP applications available for T-Mobile's G1 handset, which uses Google's Android open-source operating system. But that capability raises concerns about T-Mobile's business model, he said.
"How we make money, which today is voice plans, combined with data and messaging plans … has to evolve," Brodman said.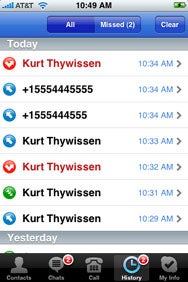 Though AT&T is allowing subscribers to download and use the iPhone Skype application, it says the software is only for use on Wi-Fi networks and not on the much more widely available 3G system. (Deutsche Telekom went further, banning use of the application altogether for its subscribers.) Though AT&T iPhone users are required to sign up for a combination voice and data plan, carriers' general fear is that subscribers could use Skype instead of paying for minutes. Asked about its policy, AT&T has said it expects its vendors, such as Apple, not to promote the services of a rival.
Carriers that sell BlackBerrys are likely to raise objections to the deal between Skype and Research in Motion, too, said IDC analyst Will Stofega. The open-Internet group Free Press last week asked the U.S. Federal Communications Commission to investigate moves by AT&T and others to apparently block the use of VoIP.
But 4G networks may transform the competition between carriers and third-party, "over-the-top" VoIP companies, because any voice service carried over these networks will take the form of IP packets.
Asked what it could do to counter third-party providers once it starts delivering VoIP itself, Verizon Wireless gave hints as to how it plans to approach data services in general.
"We have moved away from unlimited data plans," Verizon Wireless President and CEO Lowell McAdam said at a question-and-answer session at CTIA. "The excitement of an over-the-top application like (Skype) in an unlimited environment means one thing to a customer. In an environment where you're paying for every byte, that means something totally different," McAdam said.
In addition to charging per bit, Verizon plans to tackle the business of mobile VoIP the same way it's handling wired services: by making it part of a bundle that only the huge wired and wireless carrier can offer.
"The voice service will become part of something different, something larger," said Ivan Seidenberg, Chairman and CEO of Verizon Communications. "It's not that Skype's doing anything wrong, but eventually they're going to get outpaced," he said.
By contrast, AT&T suggested it ultimately will rely more heavily on selling low-priced bits.
"The way the world is going, it'll just be, 'How much data do you want to buy?' and you do whatever you want over that data," said Ralph de la Vega, president and CEO of AT&T Mobility and Consumer Markets, during a media lunch at CTIA. Though he noted it was too early to talk about rate plans for LTE, which AT&T is not expected to roll out until 2011 or later, de la Vega said the nature of the technology will reduce the operator's cost to deliver a given amount of coverage. For subscribers who aren't comfortable with the idea of buying data, AT&T may have to devise rate plans that translate bits of data into minutes of use, he added.
Clearwire, the one mobile operator that is already relying on 4G, believes quality is the key to VoIP. It plans to make money partly by delivering that quality.
Clearwire already sells VoIP for use on WiMax home modems, and it may offer mobile voice through Sprint Nextel, using the cellular carrier as a mobile virtual network operator, said President and Chief Architect Barry West. Like Verizon, Clearwire plans to add value to its VoIP offering by bundling it with other services. But the company can also make money from third-party providers, West added. The company will sell access to the higher layers of its software stack, on a non-discriminatory basis, so VoIP companies can get the low latency they need for high-quality calls, he said.
Sprint Nextel officials weren't immediately available for comment.
Yet for the mainstream carriers, turning voice into just another application on a packet-based network may still be years away.
To begin with, their 3G networks will stay in place as LTE is gradually deployed. Even Verizon, expected to be the first major operator to commercially offer LTE, said its EV-DO (Evolution-Data Optimized) infrastructure will still be around in five to seven years. Until LTE is available everywhere, handsets are likely to have two radios so they can fall back on 3G for voice.
In addition, several major network vendors have teamed up to develop a specification for handling VoIP calls like traditional voice traffic. The VOLGA (Voice Over LTE via Generic Access) standard will let carriers continue to use the MSCs (mobile switching centers) already in their networks to handle voice calls, said Steve Shaw, vice president of corporate marketing for Kineto Wireless. Kineto is a member of the VOLGA Forum alongside Alcatel-Lucent, Ericsson, Huawei, and other vendors.
MSCs are softswitches that are currently used with the circuit-based networks that handle voice calls for 3G. They are already tied in to billing, accounting and other systems, so carriers may continue to use them instead of migrating immediately to the service management platform for pure IP networks, called IMS (IP Multimedia Subsystem), Shaw said.
Over the next few years, the mobile operators may try several different approaches to the VoIP problem. Those could include relying on terms of service that prohibit VoIP use or using network management techniques to block the third-party services, IDC's Stofega said. Alternatively, some carriers might embrace other companies' VoIP services as popular products that drive more data use.
"If they're smart, they'll figure out a way to get around this," Stofega said.