TrainPlayer Software has announced the release of TrainPlayer-TrackLayer 3.2, a new version of its "virtual railroading" software for Mac OS X. It's priced starting at $30.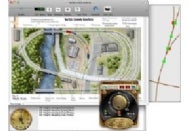 TrailPlayer-TrackLayer helps model railroading enthusiasts simulate rail operations using prepared model railroad track plans. The 3.2 release marks the first major upgrade to the Macintosh version since it was initially released, according to the developer.
Major new features include easy integration with RailModeller, a track CAD program from MacRailSoft. You can design layouts in RailModeller and convert them to a running TrainPlayer layout.
Also new are Linked Layouts, which lets you build layouts where trains can travel from one to the next. A scripting capability has been added for operating trains and layouts, a recording facility lets you capture moves and operations, and a sample is included which shows you an automated day of work on the Turtle Creek Central. A new Choosers dialog enables you to browse and download layouts, car types and sounds from linked Web collections.
TrainPlayer requires Mac OS X 10.4 or later. A free demo is available. Upgrades from the previous Mac release are also available starting at $25.