Maybe you find the iPhone's built-in camera wanting. Or perhaps you just want a way to take the ordinary pictures that camera produces and turn them into something really special. In either case, Photo fx from The Tiffen Company is worth a look.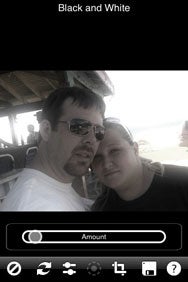 The $3 image editor lets you apply many different filters and effects to your photos, giving them a professional look sure to impress. With 26 filters in five different filter groups, as well as the ability to crop and rotate, the possibilities are endless.
When you first start Photo fx, you are presented with your photo albums where you can choose an existing photo to edit. Or, if you're using the app on an iPhone, you can tap on the camera button to take a new photo.
Once you've selected a photo, five filter categories appear at the bottom of the screen: Face FX, Outer Fx, Fun Fx, Classic FX and Wild FX. Within each of these categories, you can choose from several different filters, with a thumbnail preview available to see what it looks like with the filter applied to your photo. Tapping on one of these thumbnails will often bring up even more choices within the filter category.
Once you have selected the one you would like to apply, you will see slider bars that allow you to adjust the settings of this particular filter as well as several different icons at the bottom of the screen such as: Cancel, Refresh, Crop and Rotate, Help, Save, and more.
In the Options Menu, you can choose the maximum output size of your photo, ranging from 640 pixels to full size as well as the option to save the original photograph when editing a new picture.
The latest update to Photo fx added the ability to crop and rotate pictures as well as layer multiple filters on the same photo. After you've finished with your first filter, tapping the Save button at the bottom of the screen will bring up a dialog box asking if you would like to save the image or apply a new layer. Simply tap New Layer, and you will be able to add a second effect layered over the first one. You can repeat this process as many times as you like. Being able to add multiple filters at a time has really taken Photo FX to the next level.
The first time I used Photo fx, I was impressed with the vast array of cool and exciting filters. Some of my favorites were: Black and White, Vignette, Pro-Mist, Soft/FX, Infrared, and Color-Grad. I was surprised at how easy it was to turn ordinary, everyday photos into something really eye-catching that no one would ever think was taken with the iPhone camera.
Whether you are a professional photographer or just like to snap the occasional photo to share with family and friends, Photo fx is a must have and definitely worth the low purchase price.
Photo fx is compatible with any iPhone or iPod touch running the iPhone 2.2 software update.
[Tim Mercer is a technology enthusiast, graphic designer, and blogger, whose blog, digital-artist-toolbox.com, offers free resources to the digital artist and graphic designer.]