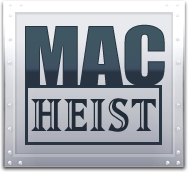 Everything's going to heck in a handbasket! Giant hyperboles are walking the streets, stomping on hardworking developers, consumers, and our cherished way of life! Only by returning to core values can we survive as a Macintosh community!
What the heck is the Macalope talking about and why are there so many exclamation marks?!
I'd buy that for a dollar!
Well, it was MacHeist time again this past week, prompting the usual outpouring of claims that it's the ruination of the Mac software market as we know it.
Certainly it can no longer be said that MacHeist is taking advantage of developers. These people aren't children. But some aspects of the promotion are rather classless. Despite the protestations of one of the developers involved, spamming Twitter is not the same as putting ads on a blog (although it's less different than another pet peeve of the Macalope's: ad-only RSS entries).
The horny one was in a protracted iChat session last night with one Mac developer over the question raised by Lukas Mathis (tip o' the antlers to Daring Fireball):
Does MacHeist hurt the amount of money people are willing to pay for great Mac software? Does it hurt the market for indie software?
It's a good question. There's been a lot of talk about the App Store and how it pushes developers to sell everything for 99 cents. Still, if developers make it up on volume, who's hurt here?
The Macalope has bought one or two of these bundles in the past, but overall he just doesn't like to make his buying decisions while someone is screaming "Act now! Time is running out!" in his furry ear. And at least once he's been burned, waking up next to an app that looked a lot better the night before, when he was full of gin.
He's not saying that these bundles don't include good software—on the contrary, they usually include great software—but not every app is created equal. If there are two apps that both roughly do X, it's not enough for this mythical beast to get the one that comes with a free bowl of soup (looks good on you, though).
So buy your bundles, kids. But don't let them stop you from paying top dollar for a quality product, either.
Variable pricing is tearing this family apart!
You've probably heard that Apple and every other major online music company acquiesced to the recording industry this week and introduced variable pricing for songs.
Surely this can only lead to the ruination of online music sales.
A-gain.
OK, like you, the Macalope's sure the recording industry will manage to screw this up. But, as with software, it's worth asking: are all songs created equal? Kraftwerk's Autobahn is 22 minutes and 43 seconds while They Might Be Giants' Minimum Wage is only 46 seconds. Autobahn effectively costs 10 times as much (because you can only get it by buying the album) but it's 30 times as long. That's a lot of fun you can have on the Autobahn. Plus, they've thrown in Komentenmelodie 1 and 2, Mitternact and Morgenspaziergang, absolutely free! Das ist sehr lustig!
But it's not all about size, you know. Those are both pretty good songs. Maybe a better question is isn't a classic like Jimi Hendrix's version of All Along The Watchtower worth more than, well, anything by Creed?
(The Macalope was going to use Milli Vanilli, but it turns out they're not even on the iTunes Store at all. Maybe the system does work.)
This is a nice music collection you have. It'd be a shame if something were to happen to it.
Hey, if what people really preferred was to get shot in the face with a fire-hose full of just any old tune, then subscription services would rule supreme. While BusinessWeek's Peter Burrows makes a decent case for a subscription service, the Macalope's long been down on the idea. This is really a matter of personal preference, but you should know that if Apple does do a subscription service…
IT'LL BE THE RUINATION OF ONLINE MUSIC SALES!
This time you know it's for sure because it's in caps.
OK, the brown, furry, and hyperbolic one doesn't really believe that. If you consume a lot of music, it's clearly a cheaper way to get your fix. But, unlike with purchasing your music, five years from now you could find yourself standing by the side of the road, $900 poorer with nothing to show for it.
Which, interestingly, is almost exactly the same reason the Macalope doesn't recommend getting into a relationship with Madonna.