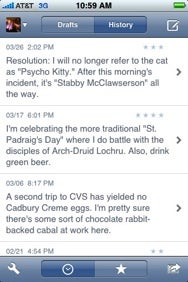 Twitter apps for the iPhone may seem like a dime-a-dozen (or, to account for inflation, 99-cents-a-pop), but the newly released Birdhouse (iTunes link), by Sandwich Dynamics, isn't your dad's Twitter app—although, if your dad is on Twitter, kudos for having such a hip pater.
The first app by Sandwich Dynamics—and I hold out hope that the next app is actually sandwich-related, mmmm—the $4 Birdhouse only concerns itself with one facet of Twitter: the composition of award-winning, needle-sharp tweets of infinite wisdom. Consider it a sort of repository for your thoughts that have yet to make it to Twitter. The developers bill it as a "notepad for Twitter," where you can jot down ideas and edit them until they're finally ready for public consumption.
Birdhouse supports multiple accounts, saving drafts, the ability to rate your own tweets and sort by those ratings, unpublishing tweets that don't quite meet your strict criteria, and backing up all your data via e-mail.
Of course, the chief thing you can't do with Birdhouse is read other people's tweets, making Birdhouse more of an addition to your existing Twitter client rather than a full-fledged replacement for it. A Twitter composer for the discerning tweeter, if you will (and if you won't, then no worries).
In the interest of full disclosure, I'm acquainted with one of the app's developers and have been beta-testing Birdhouse for a few months now—I also enjoy piña coladas and getting caught in the rain. In the interest of full disclosure.