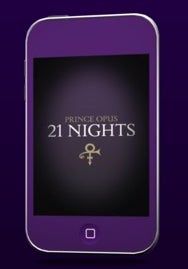 Do you like Prince? Like, a lot? If so, then you may be the prime candidate for this limited edition iPod comemmorating the iconic musician. The hardware in question—the Prince Opus iPod—is a purple iPod touch, just 950 of which were made.
Loaded on the iPod is a 40-minute video made by Prince himself of his 21 Nights performance at London's O2 Arena in 2007. There are also testimonials (is this Facebook now?) from performers like Elton John and P Diddy as well as fans, and 15 tracks from the artist's Indigo Nights live album. We don't know what capacity the touch is, but it appears to be a second-generation model, going from the volume buttons on the side. It also comes packaged with an exclusive book of Prince photographs, produced by publisher Kraken Opus—say it with me: "oooooooh."
And what does this magnum opus cost? A mere $2,100. At that price, you'd better be one of the top 950 Prince fans in the world. Don't worry if the economy's got you down, though: Kraken Opus also offers zero percent, interest-free financing for all your limited-edition-purchasing needs.
[via All Things D]