The App Store is loaded with Wikipedia apps that let you search for and read articles from the online user-produced encyclopedia. One such client, the free Wiki Tap, not only lets you access Wikipedia articles but offers a host of other cool features as well.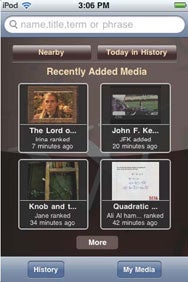 Wiki Tap includes a Media tab that allows you to read an article and watch a video about it. When you read an article, WikiTap places a small banner along the bottom of the screen (which you can choose to hide or show) with links to different videos on the subject. You can even save media to watch later.
Developer Veveo has given Wiki Tap a fairly easy-to-navigate interface. When you launch the app, it contains a lot of the same information as the Wikipedia home page—a "Today in History" entry, for example, as well as Recently Added in Media tab.
Wiki Tap can use the location feature of the iPhone or iPod touch to find articles tied to your current location. In testing this feature, I ran into some problems finding articles, though I'm sure it would work better in cities and well-known locales as opposed to small towns.
A History tab keeps track of what pages you've viewed, allowing you to go back to recent searches with a minimum of hassle. It's an ideal feature if you use Wiki Tap to do a lot of research.
In general, Wiki Tap offers a very good, free reference tool for people who need to do research on the fly. A built-in dictionary feature is helpful, though I can see where some users might prefer a dedicated app—be it a low-cost version or a more substantial dictionary—for looking up the meaning and spelling of words. A few more updates could turn this app from an interesting Wikipedia client into a very useful tool.
Wiki Tap is compatible with any iPhone or iPod touch running the iPhone 2.x software update.
[Zach Okkema is a writer and student in Mt. Pleasant, Ontario.]