BackBlaze, an automated online backup service for PC, is now available for the Mac. It's priced at $5 per computer per month.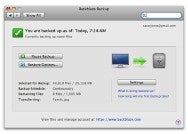 The software has been available for the Mac as a private beta, but it emerges from beta today and is now available to any Mac user who wants to give it a try.
BackBlaze backs up everything on your Mac except for your operating system, applications, temporary files and files exceeding 4GB in size. All of that content is backed up to an online storage facility, and the backup happens continuously so once you initially configure it, you don't have to do anything else.
You have the choice of what data you want to restore — you can recover a single file, a folder or directory, a set of random files, or all of your files. And BackBlaze offers you the ability to download them for free, or you can pay an additional fee and recover them on DVD-ROM or on a USB drive.
BackBlaze works through a system preference pane. You can select any local hard drive to be backed up except for Boot Camp volumes, and you can adjust the schedule, frequency of backup, configure specific exclusions for folders and file types, configure a private encryption key, view a report on what's being backed up, and check logs to make sure no problems occur.