Other World Computing (OWC) on Tuesday announced their Mercury Elite-AL Pro Qx2, a new desktop RAID system compatible with Macs and PCs. Prices start at $680 for a 2 terabyte (TB) configuration.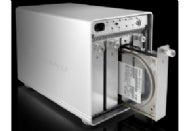 The Mercury Elite-AL Pro Qx2 is a quad-interface RAID, equipped with FireWire 800, FireWire 400, USB 2.0 and external Serial ATA (eSATA) ports. It also features four SATA hard disk drive bays and four user-selectable hardware RAID settings.
Equipped with 2TB SATA hard drives in each bay, the Mercury Elite-AL Pro Qx2 can hold up to 8TB of storage and can achieve data transfer speeds of up to 300 megabytes per second, according to OWC. The front-panel LEDs give you at-a-glance system status and the drive bays can be locked behind a removable key lock. The front panel selector switch lets you choose between four hardware RAID settings: 0, 1, 5 and 10, as well as a "span" or NRAID setting.
OWC offers the Mercury Elite-AL Pro Qx2 in a total of seven configurations, ranging from 2TB to 8TB, with either regular or "enterprise-class" hard disk drives. Prices range from $680 to $1900 depending on configuration.
System requirements call for Mac OS X 8.6 to 9.2.2 or Mac OS X 10.0 or later. All interface connecting cables are also included.