Consumers and businesses who want Mini DisplayPort-equipped monitors without paying Apple prices may soon have a new option: Collins America has announced its line of CinemaView displays — three forthcoming LCD monitors designed especially for the Mac. They're expected to ship "before Sept. 1" and will cost from $300 to $500.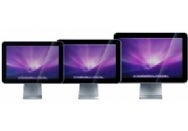 The new CinemaView displays will be available in 19, 20.1 and 24-inch sizes, with display resolutions of 1440 x 900 pixels, 1680 x 1050 and 1920 x 1080 respectively. Each of them complements Apple's industrial design cues — they feature aluminum stands, black bezels and glass fronts.
Collins America would seem to be hitting a niche without overlapping too much on Apple's territory. Apple currently only offers two Mini DisplayPort-compatible monitors — the LED Cinema Display, a 24-inch monitor priced at $900, and the 30-inch Cinema HD Display (with adapter), priced at $1800. The two lower-end CinemaView displays are smaller than that and operate at lower resolutions; the 24-inch CinemaView display also works at a slightly lower resolution than Apple's — 1920 x 1080 vs. 1920 x 1200 — and lacks a built-in webcam or MagSafe power connector. Then again, it's almost half the price.
The displays each come equipped with a three-port powered USB 2.0 hub, a passthrough stereo audio jack and an all-in-one cable that connects to a Mac equipped with Mini DisplayPort, USB 2.0 and stereo audio. Each of the displays sports 350 cd/m2 brightness and 1000:1 contrast ratios.
Collins America claims that the displays will be available from the CinemaView Web site, from Apple Specialist retailers and from independent Apple product resellers. The company is currently accepting reservations for the displays; displays reserved before August 1st will be eligible for free shipping to the U.S., Canada and EU countries.