The hardest part about losing weight doesn't necessarily involve diet and exercise. Rather, the challenge can sometimes be setting a plan and having the discipline—and organization—to stick with it. Lose It from Fit Now may not be able to do anything about your will power, but this comprehensive nutritional tracker can help you stay organized, motivated, and healthy.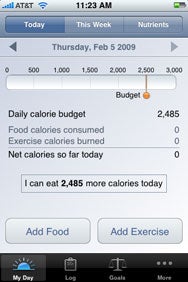 The free app forces you to pay close attention to the nutritional value and caloric content of each meal. The first time you launch Lose It, you're asked to enter your current weight, target weight, height, gender, and age—that data helps determine a logical food regimen.
From the app's tabs, you can view your goals and the progress you've made toward reaching them. You can also select foods from Lose It's database, assigning them as a meal or a snack. Lose It has the ability to create, customize, and remember any food not listed in its database, recording those into a corresponding meal category.
You don't just enter what you've eaten; you also keep an exercise record by setting what kinds of activities you've done with a handy scroll wheel. Lose It uses that data to determine a daily calorie budget that shows what you've consumed and what you've burned off. The app displays all of this in a user-friendly interface. Particularly helpful are charts and graphs that track your progress (or your lack of progress).
I was impressed by my ability to customize Lose It to fit my diet and exercise regimen. I'm even more impressed with the results—during my time spent testing the app, I've lost five noticeable pounds and become more conscious about my eating habits and behavior. And in the end, isn't that what the app should help you accomplish?
Lose It is compatible with any iPhone or iPod touch running the iPhone 2.x software update.
[Daniel P. Sama is a systems administrator, network administrator, IT consultant, writer and entrepreneur from Philadelphia.]