"Why don't you just make ten louder, and make ten be the top number, and make that a little louder?"
Pause.
"These go to eleven."
If you recognize this famous and funny scene from the 1984 movie This Is Spinal Tap, you'll be glad to hear that Spinal Tap is releasing a new album called "Back From the Dead" in June—created with the help of Apple's Logic Studio ( ) digital audio workstation software.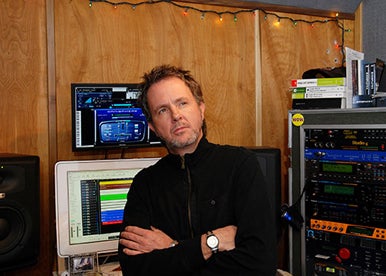 The original band members, Michael McKean (David St. Hubbins), Christopher Guest (Nigel Tufnel) and Harry Shearer (Derek Smalls), have just finished recording what will be a double album in The Treehouse, a studio in Hollywood, Calif.
If you liked the tongue-in-cheek nature of the songs on the first album, you'll love what they've done with the new material. For example, the song "Short and Sweet" is about Nigel's four-foot-nine-inch girlfriend (and clocks in at longer than seven minutes).
The material on the double album consists of a reworked version of Spinal Tap's first album, plus new material.
The Treehouse is owned by CJ Vanston, who, in addition to being a producer and recording engineer, has also played keyboards for Spinal Tap for the last 17 years. Vanston said that every piece of the album was made using Macs running Apple's Logic.
"PCs aren't allowed within 20 feet of me," Vanston told Macworld. "There's always a problem with them, whether its a virus, defragging the drive, or something. They just slow you down."
Apple's control over the hardware and software components is one of the things that Vanston likes the most about using Macs—it lets Apple ensure compatibility with the latest hardware.
A Mac user since 1984, Vanston refers to Logic as "his second engineer" when he's in the studio.
"The workflow in Logic is so fast, its just unbelievable," said Vanston, who learned from producers such as Ed Cherney and Phil Ramone. "I look at my screen everyday and I'm so happy."
Vanston has also used Logic in other ways. While on the road with Joe Cocker in 2005, Vanston needed a Hammond B3 Organ for the tour, but it wasn't practical to drag one around with him everywhere. That's where Logic came in—he used the application to model the organ live on stage and nobody was the wiser. (Logic Studio now includes MainStage, an application designed performing live using virtual instruments)
"It was just wonderful," said Vanston. "We did over 300 shows in 29 countries in 2005, and I did not have a single crash."
Note: When you purchase something after clicking links in our articles, we may earn a small commission. Read our affiliate link policy for more details.