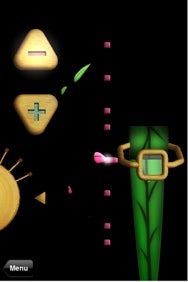 Smule, the company that brought you the iconic iPhone Ocarina application, is out once again to turn the iPhone into a musical instrument for the 21st century. This time, the team has expanded its reach with Leaf Trombone: World Stage (iTunes link), a massively-multiplayer music application.
The idea of the Leaf Trombone stems—get it? stems?—from traditional Chinese leaf instruments, but the application itself mimics the interface of the traditional brass instrument.* Players slide their fingers along the touchscreen while blowing into the iPhone's microphone in order to play or compose a songs. A built-in music box provides accompaniment for your performances, and you can download songs from Smule's extensive library over the Internet and learn how to play along with them. Leaf Trombone will even show you which notes to hit when to help you improve your skills.
The multiplayer facet of the game comes when you want to share your songs with others. You can compose songs to share online with other Leaf Trombone players, as well as participate in the judging of others' performances. And what would any multiplayer game be these days without some sort of "tangible" reward? Leaf Trombone lets you earn trophies and achievements for your compositions and performances, based on others' assessments.
I saw a demo of Leaf Trombone at the iPhone 3.0 Preview presentation in March (you can watch Apple's video of the event if you want to see it for yourself), and was pretty impressed with the performance, billed as the first public Leaf Trombone duet ever. Personally, I'm still awaiting the first tour of the world's all-iPhone rock band.
*The rest of the editorial staff has requested I apologize for the terrible pun in that sentence: I promise to leaf it alone in the future.