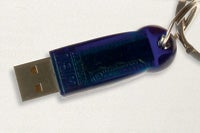 When last we heard from the folks at GT SecuriKey, the makers of the hardware-software combo for securing laptops had just come out with a bundle aimed at mobile Mac users who also ran Windows on their portables via Boot Camp. Now the cross-platform data security company is updating all of its Mac offerings, with enhanced data encryption features in the latest version of SecuriKey.
If you're not familiar with SecuriKey, here's how the system works. The product features a USB key that you plug into a port on your Mac. Once you enter the correct password, you're able to use computer. Remove the key, and no one can operate your laptop. You can also use SecuriKey's software to encrypt critical files.
The newly released SecuriKey for Mac 3.1 promises enhanced AES data encryption features. According to GT SecuriKey founder Bennett Griffin, the previous version of the product let you create a special SecuriKey Encrypted Volume for protecting sensitive data, but your initial volume size was limited to 1GB. In version 3.1, the size of your Encrypted Volume is limited only by the size of your hard drive.
"You can create a SecuriKey Encrypted Volume that is as big as you need," Griffin said.
SecuriKey for Mac 3.1 comes in three versions: the $130 SecuriKey Pro for individuals, the $180 SecuriKey Mac/Win Bundle if you use Apple's Boot Camp cross-platform utility, and the $250 SecuriKey Multi-User for managed groups. Already use SecuriKey? Current customers can upgrade to the 3.1 software for $50; existing USB keys will continue to work with the new version.