You've got a well-stocked desk—paper, pencils, maybe even a few erasers. But something is missing… the kind of personal touch represented by a framed photo on your desk. But if you've got an iPhone or iPod touch, there's no reason you have to spring for a standalone picture frame—not when Chilli X's PhotoFrame can add that functionality to your mobile device.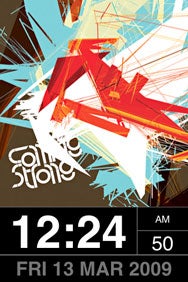 The $1 PhotoFrame provides most of the basic features you'd find in other calendar-clock iPhone apps, but adds its own twist—a much-welcomed photo slideshow.
By default, the app provides six photos but allows you to choose up to 20 from your photo library. Images display at an interval of five to 120 seconds—you set the time. And if you get bored waiting for the next photo, you can tap the screen or shake the iPhone or iPod touch for an instant change. The app overrides the auto-lock setting on your mobile device, meaning your phone won't go to sleep in the middle of your slideshow; that way, you can keep PhotoFrame running like a real digital photo frame while you charge your iPhone at your desk.
The time and date appear at the bottom of the slideshow image. You can set whether the time appears in a 12- or 24-hour clock.
That's about it for PhotoFrame—it's an extremely simple app. Still, after testing several different desk clock applications, I've found this one to make the most sensible use of screen real estate. You sacrifice the full calendar view you'd get from DeskClock, another Chilli X app. But in exchange, you get a great slideshow feature—and as someone who changes his iPhone's wallpaper once a month, I feel like that's a fair trade-off.
PhotoFrame is compatible with any iPhone or iPod touch running the iPhone 2.1 software update.
[Rob de la Cretaz is a full-time polymath and a proud resident of Pittsburgh.]