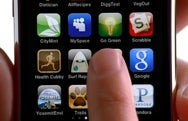 My colleague (and Macworld's newest blogger) David Chartier recently explained why he believes Apple should move away from its recent App-Store-centric series of TV ads for the iPhone. In the spirit of friendly discussion, allow me to present a forcefully compelling argument to the contrary: to wit, more third-party app ads and be quick about it!
There's one major reason to continue along the App Store path and it's this: the ads work. I cannot count the number of times in the past few months that I've heard someone—even generally technologically un-savvy people like my parents—quip that "there's an app for that." Heck, a reference made it into a recent episode of the ABC crime procedural Castle (even though the title character, played by Nathan Fillion, doesn't use an iPhone—hey, isn't ABC owned by Disney? What gives?).
My somewhat technologically-challenged best friend from college even called me up last week to tell me that the company that his sister's fiancé works for was being featured on an iPhone ad (that'd be Howcast, featured in this spot). To my mind, that clinches it: the people have gone appsolutely crazy.
As nice as the built-in features and UI of the iPhone are, I think that much of what Apple's adding in the iPhone 3.0 update isn't the kind of thing you'd hang an ad on: Copy and paste? Search? These are arguably capabilities that should have been there from the beginning. I'm not sure Apple wants to draw that kind of attention, though its longtime ad firm TBWAChiatDay could probably produce a persuasive spot explaining why there's never been copy-and-paste like this before.
On the other hand, iPhone 3.0 is due to add new features for third parties, too, such as the ability for accessory companies to write iPhone apps that interact with their hardware. Now there's something sexy enough to merit a prime-time TV ad. Imagine showing off the iPhone being used to help monitor blood-pressure, or controlling a stereo system, or working with any number of clever inventions that third-party developers are likely to come up with.
The App Store has transformed the iPhone from a nifty mobile device—the "mere" successor to the iPod—into a worldwide phenomenon in its own right. Apple provided a great foundation with the iPhone's OS and seeded it with a few apps of its own, but even the mothership could never hope to marshal the same resources as thousands of independent developers, all with their own passion and ingenuity. One of Apple's greatest strengths has always been its devoted community of developers, even if the company sometimes seems loathe to acknowledge it, like a grumpy teenager who insists on walking ten feet behind his parents in public.
"There's an app for that" is another coup in the long line of Apple advertising catchphrases that have seeped into the public consciousness, like "Think Different" or "Hello, I'm a Mac" (even Microsoft couldn't resist that one). As long as people are creating great apps for the iPhone, there's still juice left in that box—no need to put down the straw just yet. Because if there's an app for that, then you can be sure that there's an ad for that.