Every so often a casual game comes along that's entirely simple, entirely original, and entirely addictive. Area/code's Drop7, which challenges players to line up numbered balls in a grid seven squares wide and seven squares high, definitely falls in that category. Like Tetris or Bejeweled, it's easy to learn, difficult to master, and even harder to put down.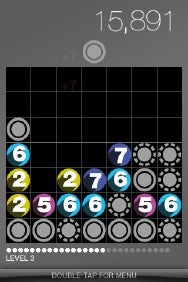 For anyone with a casual bent, Drop7's goal should sound familiar: eliminate the ever-amassing balls, which rise up from the bottom of the screen in rows, to avoid hitting the top and losing the game. In this case through, each ball sports a number from one to seven. In order to make it disappear, players have to use it in a row of exactly that number.
Like any great puzzle, Drop7 is a game of both skill and luck. Eliminate one ball, and it may spark a chain reaction, clearly the board in dramatic bursts and multiplying your score. Each new row of balls that appears however comes up gray and number-less, and has to be cracked open by eliminating others around it. With Normal, Hardcore, and Sequence modes — the last of which challenges you to try over and over with the same combinations — this simple game never gets boring.
Drop7 is compatible with any iPhone or iPod touch running the iPhone 2.1 software update.
[Bonnie Ruberg is a San Francisco freelance writer whose work has appeared at Forbes.com, The Village Voice, and other publications.]