Mac blogger (and occasional Macworld contributor) John Gruber wrote about the excellent Mac software Yojimbo a couple of months ago. According to Gruber, Yojimbo's frictionless file creation (like Stickies, you never have to save your work—it's saved as you type) and search were "like having a mind with an unfailing memory."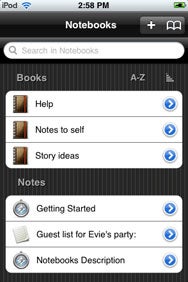 There's no iPhone version of Yojimbo. But once you're addicted to jotting down anything and everything with minimal effort, you'll want to find an equivalent app to carry around in your pocket. Notebooks, a $6 app from Alfons Schmid, isn't a perfect mobile counterpart. But it's close.
Notebooks lets you create any number of notes, within any number of folders—which it calls notebooks. You can type notes in portrait or landscape mode (hooray for widescreen typing!), and the app even offers a rudimentary cut/copy/paste interface.
Some elements of the Notebooks interface seem a bit unusual, but they work: Pinching and squeezing adjusts the font size of your note, instead of the more-traditional zooming. When you make the page-turning swipe gesture to get to the next page of a note, the new page fades into view. It's not a jarring difference from the standard "slide" into view (like when paging through photos), but it's noticeable. Most notably, the app features several instances of multi-function buttons: A tap on the Plus icon (+) opens a new note; a tap-and-hold creates a new notebook instead.
Notebooks offers wireless Bonjour-based two-way syncing, though it requires you to first install the open-source software SyncDocs. You can sync a variety of file types—html, PDFs, Web archives—but only plain text files are editable.
With copious in-app help available to get you started, and a uniquely-crafted, fully usable interface, Notebooks works well when you're on the move and need to jot down those notes-to-self you can't afford to forget.
Notebooks is compatible with any iPhone or iPod touch running the iPhone 2.1 software update.
[Lex Friedman mostly jots down ideas to blog about, and then does so at his blog.]