It's relatively painless to make most iPods work as storage devices (in addition to first-rate media players). But with the iPhone and iPod touch, Apple offers no direct way to do that. Memory Stick, a $2 app from Softalk, is one of several utilities in the App Store that aims to fill that void.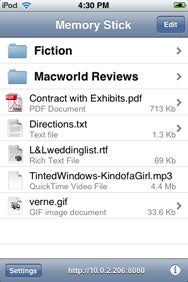 When you launch Memory Stick, it immediately opens up a local WebDAV server on your Wi-Fi-connected mobile device. You can then use a computer on the same network to copy files to and from the device. Whether you're running OS X or Windows, you'll be able to view your iPhone like a network drive right from your desktop. (It won't appear there automatically, though. You'll have to follow the developer's instructions for your platform of choice to make the iPhone appear; on the Mac, you enter a Web address on the "Connect to Server…" option of the Finder's Go menu.) Once you have everything set up properly, you can drag files and folders directly to and from your iPhone. As you do so, they appear instantly on the device.
Read more…
If you don't have too many files to transfer, you can theoretically fire up your browser to upload and download files via a Web interface. Unfortunately, I ran into various frustrating issues with the Web front-end to Memory Stick. Files I delete—and that don't show up on the iPhone or Finder—are still listed in the Web interface, and file names are sometimes weirdly truncated in that interface. Those truncated links won't let me download the affected files. The good news is that files broken on the Web work fine in the Finder.
But those issues made me curious. I discovered that for each file I put on the iPhone via Memory Stick, the app creates an invisible file, too. (When I upload Directions.txt, for example, it also creates ._Directions.txt.) When I delete a file via the iPhone or the Finder, the invisible file remains behind. This seems like an important bug; it's clearly tripping up the Web interface, and it leaves a lot of unnecessary cruft clogging my iPhone.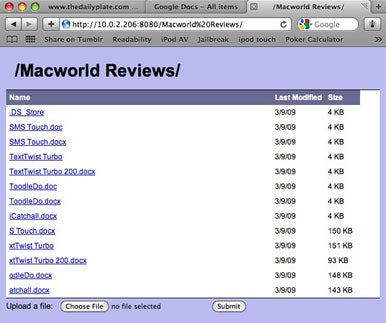 Memory Stick's interface on the iPhone fares much better. Files can be sorted into folders, which you tap to open. You can delete files—or entire folders—with a single swipe. And you can open files right on the iPhone, if they're in one of the supported formats (which include Office and iWork files, PDFs, Web pages, text files, images, and even QuickTime movies). You can also use Memory Stick just to transport file types that the iPhone can't open itself.
Memory Stick remembers your page when you scroll through long documents. If you leave off at page 8 of a 60-page PDF, Memory Stick will take you back to that spot when you reopen the file. Memory Stick's settings allow you to toggle the display of invisible files, extensions, and file sizes.
Memory Stick has some unfortunate holes, too. You can't edit filenames from the iPhone. You're also not able to edit even plain-text files on the device, which some competing tools allow. And because Memory Stick tries to identify each file type (based on extensions), it won't recognize or open plain text files that use extensions it's not expecting, like .php, or text files with no extension at all.
Because of Apple-imposed limitations, the iPhone can't currently function as a true thumb drive. Memory Stick approximates something pretty similar, assuming you have wireless networks available to your device at each computer you want to move files between. The Web interface is saddled with issues, but with WebDAV allowing you to mount the iPhone right on your desktop, you don't really need the Web at all. Once Memory Stick is more liberal in recognizing text files (and allows editing of them) and curbs that weird invisible file issue, it will become a more worthwhile tool.
Memory Stick is compatible with any iPhone or iPod touch running the iPhone 2.x software update.
[Lex Friedman transfers most of his thoughts directly to his blog.]