iOS 17 is finally out, but it's only partially out. It brings a wealth of improvements and new features: Contact posters, live voicemail transcription, StandBy, FaceTime messages, new autocorrect and dictation, Siri improvements, and a lot more. But some features you may be looking for won't be there when you update your iPhone in September. While they're part of iOS 17, they won't be ready until later this year.
Apple does this every year with iOS updates, and it's no cause for concern. It just means that some features are earmarked for iOS 17.1, 17.2, or 17.3, and Apple is telling us about all of them now. In fact, sometimes one or two of the "coming later this year" features slip into the next year. Here are the iOS 17 features Apple says are coming in a future update to iOS 17:
AirDrop over the Internet
One of iOS 17's nifty changes to AirDrop is that you can initiate it just by bringing your iPhone near the recipient's iPhone. That part is coming with the iOS 17 release.
But another handy change is that, if someone is sending you a couple of big videos and several dozen photos, you don't have to sit there for ten minutes waiting for the transfer to complete. You can start an AirDrop and then go your separate ways, and the AirDrop will continue over the internet, at full quality. You and the sender just have to be signed in to iCloud.
That second part, the internet transfer, won't be available until some time after the initial iOS 17 release.
Journal app
Apple showed off its new app Journal at WWDC, and it seems pretty great. Make notes about your day, include pictures or music or locations, and all the suggestions happen on-device and the iCloud syncing is end-to-end encrypted. You can even lock your journal.
But we're going to have to wait until "later this year" to start our journaling…er…journey.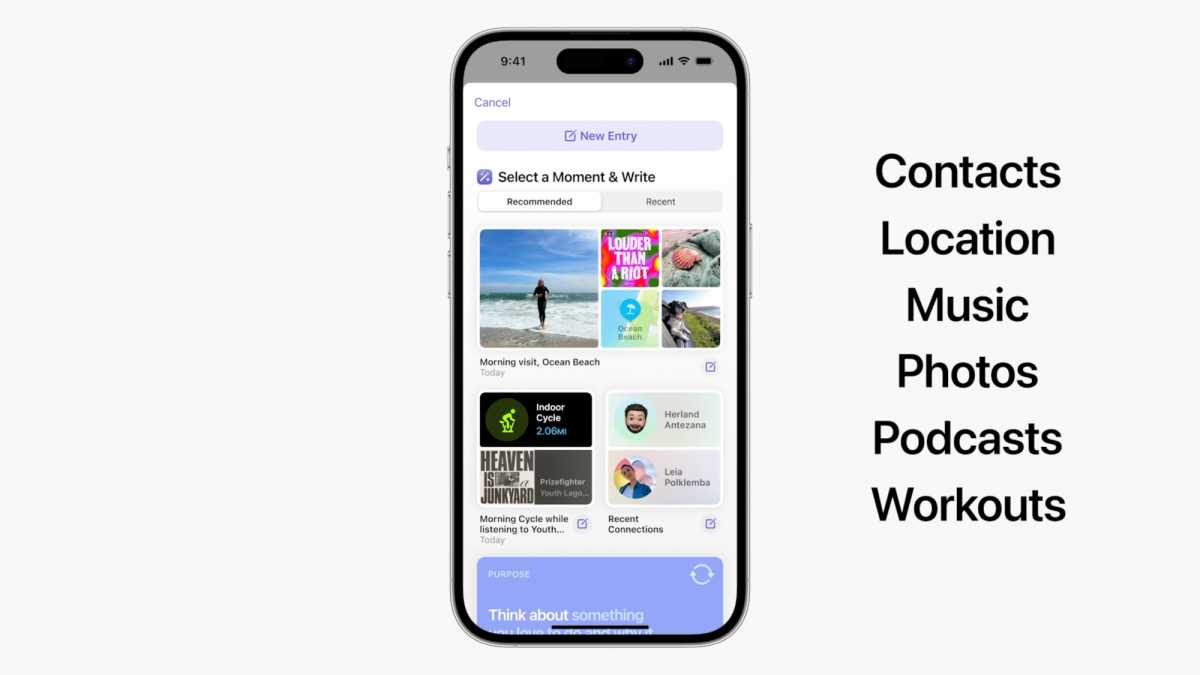 Foundry
Collaborative Apple Music playlists
Music fans have been asking for shared or collaborative playlists in Apple Music for years. It's one of those things that keeps people on Spotify.
It's finally coming to iOS 17. Or at least, iOS 17.1, or 17.2, or maybe 17.3. That's when you'll be able to share Apple Music playlists with friends who can add, remove, and reorder songs, and you can all use emoji to react to song choices in Now Playing.
AirPlay in hotel rooms
Playing your own content on a hotel TV is a major pain. Apple's going to work with hotel chains to add AirPlay to their TVs, which is just what we want. You'll scan a QR code on the TV to connect to it, and just stream what you want from your phone to the TV in your room.
That one's not coming until some time after the iOS 17 release, and if we're honest, it's probably going to be a year or more before most travelers encounter it. Only a few select hotels are expected to roll it out later this year, with more to follow.
NameDrop to Apple Watch
Together with the new AirDrop features comes NameDrop, Apple's branding for a feature Android has had for a long time. Just bring your iPhone really close to another one to send them your contact info (and you can control which contact info they get and don't get). You'll even be able to do it on someone's Apple Watch. Neat!
Except the Apple Watch part is coming, you guessed it, later this year in a software update. It also requires an Apple Watch Series 6 or later, Apple Watch SE, or Apple Watch Ultra.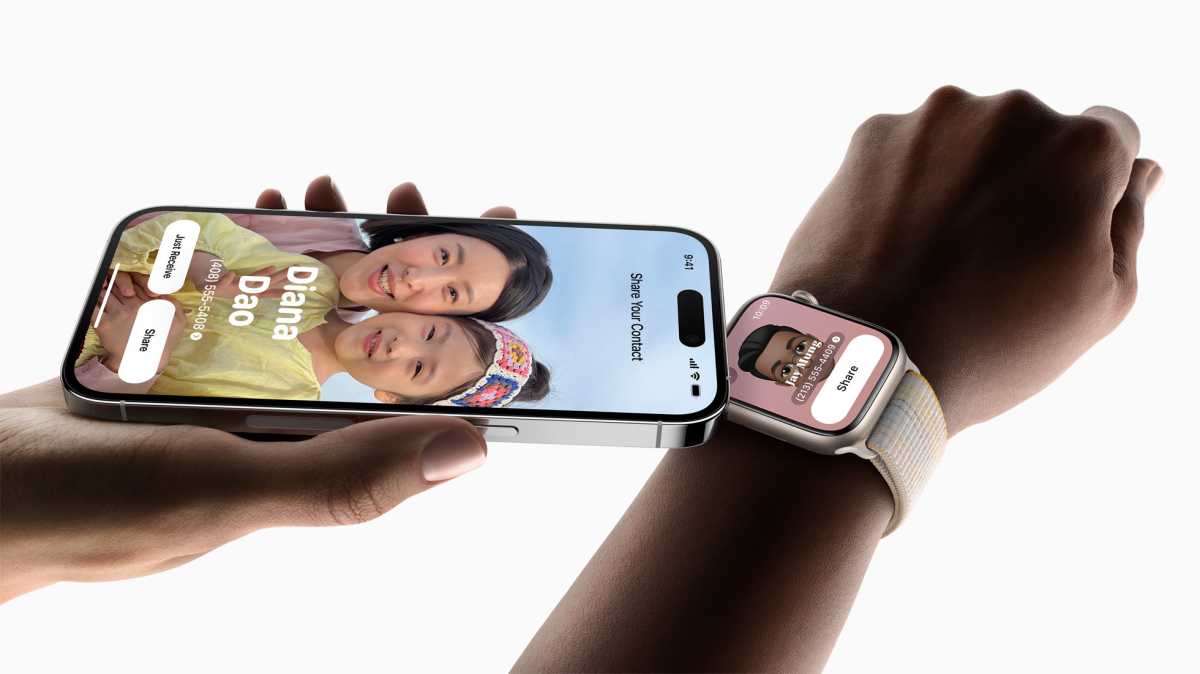 Apple
Messages improvements
Some Messages improvements are coming with the initial iOS 17 release, but others will roll out in updates later this year.
The new Stickers experience and that "Catch-up arrow" to go to the first unread message in a thread are two new features being added in an iOS 17 update later in 2023.
There will also be improvements to Messages in iCloud syncing later this year. It will sync not only your Messages, but also settings such as Text Message Forwarding, Send & Receive accounts, and SMS filters across devices.
News widget
A widget that lets you play or pause a News+ audio story or podcast will be added in a future update.
Apple Music Favorites
An update later this year will add a new Favorite Songs playlist of all the songs you have fvorited on Apple Music. Plus, you'll be able to Favorite songs, albums, playlists, and artists, and they will be automatically added to your library and used to improve recommendations.
PDF forms
One of our favorite upcoming features is the ability of the system to use AI to read PDF forms, identify fillable fields, and then fill them in automatically. This will work in Files, Mail, and even in scanned documents, but you'll have to wait for an iOS 17 update later this year.
Fitness+ Audio Focus
When doing a Fitness+ workout you'll soon be able to prioritize either the trainer's voice or the music.
Tap to Unlock Matter locks
You can tap your iPhone to unlock those locks that support HomeKit and HomeKey, but you'll soon be able to do the same with locks that support Matter.
Easier Apple ID sign-in when setting up devices
When you're setting up your new Apple device, you'll be able to sign into your Apple ID by bringing a trusted iPhone or iPad nearby and scanning the point cloud. The same process is used today, but it transfers a lot of apps and settings but does not sign in to your Apple ID.