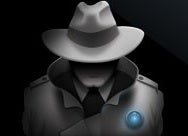 Orbicule, longtime purveyor of theft-tracking software for the Mac, now wants to help keep an eye on your iPhone or iPod touch. The company's newly released iPhone app Undercover can covertly transmit your device's location and IP address to authorities when you report it as lost or stolen. It's a great idea with some clever features, but even this private i-detective has its limitations.
At $4.99, Undercover is cheaper than an insurance policy. The app mostly lies dormant until the unfortunate loss or theft of your darling iPhone or iPod touch. With the free registration at RetrieveMyiPhone.com, you can link your device to the account and, once you mark your device as missing, you can trigger a few key features. When you report the theft, you can add information to your Retrieve My iPhone account such as a case number, officer name, and e-mail address, and the station will automatically be notified when the thief runs Undercover.
Undercover can disguise itself as a game, tricking a thief into waiting at a startup splash screen while it transmits the aforementioned location information to local authorities (assuming it has a network connection). If, on the other hand, you're a believer in Good Samaritans, you can also opt to have the app display a button for calling the device owner. When Undercover is run, it will grab its instructions from your RetrieveMyiPhone account—again, assuming a connection is available.
Of course, much of Undercover's appeal as the savior of your iPhone or iPod touch hinges on the app being run by whoever finds it, be it a thief or otherwise. If you have pages upon pages of apps, the person may not even notice Undercover, and if the device is plugged into iTunes and wiped, Undercover will disappear altogether. If you're an advocate for Apple opening up background processes to third parties, this is where you can begin ranting (again) in the comments.
Paranoid and loss-prone MobileMe users may not need to worry themselves with Undercover. As we saw last month, a " Find my iPhone" feature seems to appear when adding MobileMe accounts under iPhone OS 3.0. No one is quite sure what this feature does yet, but tracking down a lost or stolen i-device is a pretty good bet.
Because of Undercover's unavoidable limitations, and because not everyone is a MobileMe subscriber, Orbicule says it is working with other third-party iPhone app developers to incorporate its technology. Orbicule did not immediately answer Macworld's request for comment, but it appears that the company is trying to license its technology to developers and encourage them to build it into their apps. Theoretically, you could then enable Undercover-like functionality in more apps, thereby increasing your chances of location information being transmitted after loss or theft.
Whether Undrecover's relatively cheap price is worth another layer of not-quite-bulletproof security is a question for the App Store sales charts. It beats having to buy a replacement iPod touch, and it's definitely better than paying full price for an iPhone while still under contract—but the likelihood of a thief or even a Good Samaritan finding (and running) Undercover is the most unstable variable in the equation. If you spring for a copy or have a success story to share, don't hesitate to share in the comments below.