Strategery, a $2 iPhone game from iDrinkApp.com that plays a lot like Risk, looks exquisite. That's a high compliment, particularly for a game whose main interface consists of a bunch of colorful dots, but it's more than earned. Great attention to detail and particularly crisp text make the game a delight to look at. The gameplay itself isn't too shabby either.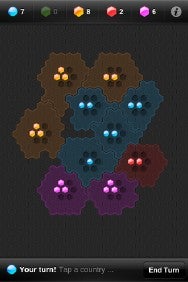 You control the blue countries, and your armies are blue dots. On your turn, you tap any country you control that has at least two armies, and then tap an adjacent nation you wish to attack. Each army involved counts as one die, and if the sum of all the dice your armies roll is greater than the sum of your enemies — well, get ready to plunder. You'll immediately take ownership of their land … but if the final dice score was close, expect to lose some armies in the process.
You can choose to end your turn whenever you'd like, and you score bonus armies for each adjacent country under your control.
Strategery wisely lets you speed up when your computer opponents play, so you don't spend a lot of time waiting to go again. And if you're a preferences junkie, Strategery is heaven: You can choose from 4 levels of difficulty, three map sizes, play against 0 to 4 human opponents (sharing your iPhone), and a smattering of other gameplay settings. You're able to make Strategery play you want it to, and that's the hallmark of a great game. (Update: As noted in the forum thread for this review, there's a free lite version of Strategery in which some of the game's advanced options are disabled.)
If you like turn-based strategy games, you'll enjoy playing Strategery. It's attractive, quick to play, and charmingly addictive.
Strategery is compatible with any iPhone or iPod touch running the iPhone 2.x software update.
[Lex Friedman is a Macworld contributor with his own blog.]