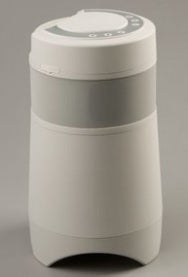 Audio vendor Soundcast Systems has announced OutCast Jr., a smaller, less-expensive version of the company's OutCast wireless outdoor speaker system. Like the original $800 OutCast, the $500 Jr. model is a weather-resistant, multi-directional speaker unit designed for outdoor listening. Both models receive audio from up 350 feet away from a Soundcast iCast Transmitter (for iPod-hosted audio or a line-level audio source) or Universal AudioCast Transmitter (for USB- and line-level-audio sources); each mocel also provides remote playback controls on the speaker unit itself.
Whereas the original OutCast provides 100 Watts of power, an 8-inch woofer, and four 3-inch drivers, the OutCast Jr. reduces the amplifier power to 60 Watts and the woofer size to 6.5 inches. At 16.4 pounds and 19.5 inches tall, the Jr. also weighs 9 pounds less and is 6.5 inches shorter.
The OutCast Jr. includes an AC power cord, a 12-Volt cable for powering the unit from an auto accessory jack, and an internal rechargeable battery. Soundcast claims the Jr.'s battery will provide 5 to 9 hours of playback.
The OutCast Jr. is available now via the company's Web site and select retailers.