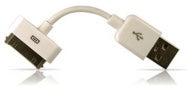 CableJive, a company that provides unique cable solutions for iPods, iPhones, and other portable devices, has released the iStubz, a compact version of Apple's dock-connector cable. At just 7 centimeters (2.8 inches) long, the $8 iStubz takes up less room in your laptop bag and cuts down on cable clutter on your desk—provided you don't need the extra reach of Apple's cable. Like the stock dock-connector cable, the iStubz can be used to charge and sync your iPod or iPhone with your Mac, as well as to charge your device using a USB charger. It can also be used to connect Apple's Universal Dock cradle to a computer or charger.
The iStubz is also available in a 22-centimeter (8.7-inch) version for $9.
Note: When you purchase something after clicking links in our articles, we may earn a small commission. Read our affiliate link policy for more details.