I'm always on the lookout for ways to improve my productivity. I've tried many task managers and to-do lists in my day. Toodledo, a $4 app from Toodledo, offers a combination of customization and intuitiveness that has earned it a prime spot on my iPhone.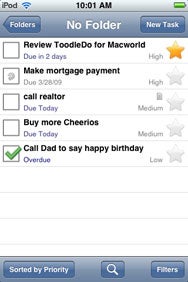 When you first launch Toodledo, the app looks barren. Once you spot the New Task button, you'll be in business. Adding tasks is straightforward; you type in the text for the task itself, and then can fill in a smattering of optional fields: Priority, Folder, Due Date, Notes, and more. If you decide you want to add other fields to the task entry screen—like Tags, Start Date, or Goal—or to remove any of the fields, you can do so within the app's settings. You can also reorder the fields, with a slick drag-and-drop interface.
My sole complaint about the New Task screen is the inability to add new Folders for tasks. If you don't have an appropriate Folder for your new task, you must go back to the start screen, tap Folders, and then choose Add Folder. I like to keep my to-dos organized hierarchically, and the ability to create new folders while adding a task would rock.
Toodledo also offers recurring tasks—perhaps "Pay the mortgage" or "Give Fluffy his tick medication"—that automatically reappear when appropriate.
Deleting a task from your list simply requires the familiar iPhone swipe gesture. In fact, the joy of using Toodledo is that so much of the app's navigation feels particularly intuitive. After labeling a bunch of new tasks as "Personal," I started to wish that I could set "Personal" as the default folder for all new tasks. I went into Toodledo's Settings, found Fields and Defaults, and then tapped Folder. Boom! I also wanted new tasks to be due "Today" by default—there's a setting for that, too. (I could also have chosen "Tomorrow," "In Two Days," "Next Week," or "Next Month.") Another setting screen lets me choose how the app's badge—that red number that overlays its icon, like Mail does with unread messages—works. The badge can display the number of tasks due today, the number of total open tasks, or a half-dozen other options. You can even choose what Toodledo's start screen should be.
Toodledo automatically syncs with the Toodledo.com site, and you can choose to sync manually instead. I find that the app's interface far outshines the Web site, though, so I do all of my task management from the iPhone. I've found that even with many tasks entered, Toodledo remains snappy, and the built-in search works perfectly, instantly filtering the visible tasks as I type in my search terms.
You can choose to sort your task list by the field of your choosing, including due date and (my preference) priority level.
I should note that the very first time I ran the app and created tasks, its home screen wouldn't update properly. A relaunch resolved that issue, and it hasn't recurred since.
If you're a to-do list kind of person, you've probably employed many different tools in your search for the perfect system: Post-it Notes, Stickies, Remember The Milk, Ta-Da List, or countless others. And if you've given up on any of them, it's likely because the system wasn't flexible enough to work exactly the way you wanted. That's the most impressive element of Toodledo; somehow, it doesn't feel like "settings overload"—I feel fully empowered to customize the app to match exactly my desired workflow.
Toodledo is compatible with any iPhone or iPod touch running the iPhone 2.1 software update.
[Lex Friedman's next item on his to-do list is to update his blog.]