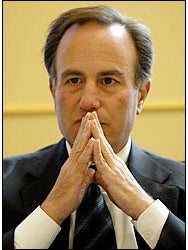 Verizon CEO Ivan Seidenberg took advantage of a recent chat with the Wall Street Journal to talk a bit about Apple. Seidenberg said that Apple never wanted to make a version of the iPhone for Verizon's CDMA network, since it wouldn't be able to be as widely distributed as the GSM-based models it eventually produced. Uh, yeah, Ivan, thanks for joining the rest of us over here in the nation of Duh.
Mr. Seidenberg also addressed the notion of Apple Inc.'s iPhone ever coming to the Verizon Wireless network, saying it is more likely that Apple would be willing to work with the carrier under the fourth-generation, or 4G, network, which follows the same technology standard as AT&T Inc.'s 4G plans.
That technology, which we've discussed before, is called LTE and is the next step along the GSM standard after the current 3G incarnation. Among U.S. providers, AT&T, T-Mobile, and Verizon will all be transitioning to LTE for their 4G networks, a process expected to happen over the next few years. Rival Sprint is meanwhile planning on using a version of the WiMax standard for its next-generation infrastructure.
This shows a bit of a softening towards Cupertino on the part of the Verizon CEO. Back in June 2008, he told the Financial Times that "Steve Jobs will eventually get old," adding that Apple was still a small player in the mobile industry and the iPhone was unlikely to become a mass-market hit.
Of course, that was right around the launch of the iPhone 3G. Several million handset sales later, perhaps Seidenberg is rethinking his dessert plans, and eyeing a piece of that sweet Apple pie.