We're clearing out our mailbox of some recent stuff that's come our way, such as an aerobatic racing game, a new title from the maker of Galcon, football/soccer management game and an imaginative game involving flatulence.
Red Bull Air Race Lite Version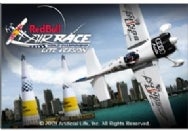 Unlike most "Lite" versions, Red Bull Air Race still costs $1. But or that, yu get to customize a 3D aerobatic airplane and put it through its paces in sky race tracks modeled after the official Abu Dhabi and San Diego events.
Cosmic Nitro
The end of the world is nigh! You must defend the world through nine different invasions. Cosmic Nitro sports five enemies, 9 invasions, "Apocalypse Mode," a secret level and more. This $1 game is from the maker of the hugely addictive iPhone title Galcon.
Soccer Manager
In Soccer Manager, you can manage a top European soccer/football team and guide them to league and cup success using your managerial skills. You negotiate player contracts, buy and sell players, manage finances and do everything else a soccer team manager does. It's priced at $5.
Gravity Well
Described by its developer as a mix of pinball and mini golf, Gravity Well forces you to use the gravity pulls of your orb around 36 environments that include deadly threats like lasers, zappers, crushers and spikes. It's $4.
SkyFart
Will you fart enough to get to the top? SkyFart is a $2 game that's zany and irreverent. You play as Bill, who has some flatulence issues that allow him to fly. Press on Bill to make him fart and fly as high as you can.
iKitty
iKitty is a $1 virtual pet for your iPhone, an adorable cat you can play with as long as you take care of it — it'll run away if it's not happy, and the app will quit for one half hour before the iKitty will accept you again.
Iso
A $1 falling blocks game, Iso has you matching three or more colored blocks for points. Iso becomes more difficult over times, sports auto save, lets you listen to your own music, and features natural gesture control.
PuzzleQuiz
Priced at $2, PuzzleQuiz lets you create customizable puzzles using personal images and photos; it also has a full-on puzzle quiz game with three difficulty levels and 15 puzzles depicting famous places in the world.
Marble Tactics
In Marble Tactics, you tap on a marble to select it then drop it into an empty space. Arrange the marbles in lines of five or more of the same kind to remove them from the board; every move that doesn't make a match results in three new marbles being added. Special pieces will grant you specific bonuses. It costs $2.
AlphaBlox
AlphaBox is a puzzle game in which you must slide falling letters into place to form English words. You can swipe left or right on the screen to guide the letters, watching out for bombs and rubber tiles. It costs $2.
Flower Garden
Plant seeds, water them and watch them bloom — it's not so much a game as a simulation of what it's like to grow flowers from seeds. Flower Garden costs $3. It features more than 20 different seeds to unlock, the ability to mix bouquets you can send to others with personalized cards and custom backgrounds, and more.
Sky Burger
Sky Burger, on sale for a buck, is from the creator of Scoops. Similar gameplay: Stack the contents of a deluxe burger to the sky, and don't forget the top bun when you're done. Build over 50 unique burger orders that grow taller and taller.
Tangled
In Tangled is a puzzle game that lets you "untangle" lines and make sure they don't overlap. You touch the dots and drag the lines to untangle them. The game includes 20 pre-made puzzles and also includes randomly generated ones. It costs $1.