[Editor's note: The MPAA and most media companies argue that you can't legally copy or convert commercial DVDs for any reason. We (and others) think that, if you own a DVD, you should be able to override its copy protection to make a backup copy or to convert its content for viewing on other devices. Currently, the law isn't entirely clear one way or the other. So our advice is: If you don't own it, don't do it. If you do own it, think before you rip.]
We continue our march to the ultimate Mac mini media center. So far we've covered upgrading the mini as well as connecting it to AV components and configuring Front Row. In part three, we look at ways to acquire additional content and use third-party media applications to access that content.
And where to get that content? Much to Apple's dismay, music and video don't begin and end with the iTunes Store. Multimedia content is available from DVDs you own, live television broadcasts, and content streamed across the Internet.
Ripping DVDs
We've covered ripping DVDs extensively in our DVD Ripping FAQ as well as this article on converting video for any device. Rather than tread that ground again, let's look specifically at my experiences with the new Mac mini.
In short, it's not a fast ripper. While I can rip the main feature of a commercial DVD with HandBrake in about an hour with my Dual-Core Mac Pro and its two 2.66GHz processors, the Mac mini takes three to four times as long using HandBrake. With the use of other tools it's possible to do this more quickly, but HandBrake is a one-stop solution—insert the disc, choose the output format (I prefer the Apple TV format so I can later access my movies from the set-top box in my office), select the main feature, click Start, and go away for a few hours.
Optionally, you can perform the rip on a faster Mac and then copy the resulting video to the mini. But if you'd like to be a purist and do the job more quickly on the mini, you can take one of several approaches.
One option is to use RipItApp's $19 RipIt to create a full-resolution, full-featured, full-sized DVD Player Media Document file, playable with Apple's DVD Player. On my Mac mini, it took RipIt about 46 minutes to rip The Beatles' Yellow Submarine (a family favorite now no longer in print, making it a perfect DVD to archive).
This was a fast solution, but not one I was completely happy with. Although you can take the Video_TS folder that RipIt produces and place it in your Movies folder (and thus access it from Front Row or a media player compatible with Video_TS folders), these folders are huge—over 7GB in some cases. Plus, they don't appear under the Movies heading in Front Row, which means you have to navigate to a different folder just to get to them. With these limitations in mind (and with the idea of being able to later watch these movies with an Apple TV) I determined to convert the movie files to an iTunes-friendly format.
To do that I used Elgato's $150 Turbo.264 HD encoder/accelerator hardware and software package to convert the video to Apple TV format. The steps for doing that are these.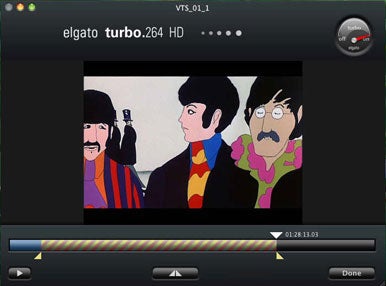 After plugging the Turbo.264 HD dongle into a free USB port on the back of the mini, install the Turbo.264 HD application and launch it. Return to the Finder and Control-click on the DVD Player Media Document and choose Show Package Contents. In the window that appears, drag the Video_TS folder into the Turbo.264 HD application. A list of the DVD's contents will appear. Uncheck everything you don't want (in my case this usually means everything but the main feature), and click the Start button. (In the case of Yellow Submarine the extras and movie imported as a single file, which I trimmed using the application's Begin- and End Edit controls.) Converting Yellow Submarine to Apple TV format took 37 minutes with the Turbo.H264 HD plugged into the Mac mini.
To see how much time I saved, I then grabbed this same Video_TS folder and ran it through HandBrake. It took more than three hours to convert the file.
Another option is to use Metakine's free Fairmount to mount the DVD as an unencrypted volume and then drag that volume's Video_TS folder into the Turbo.264 application. This isn't particularly speedy as Fairmount has to mount a lot of the disc's content before the Turbo application is ready to convert it. For instance, I mounted the Wallace and Gromit movie, Curse of the Were-Rabbit (another often-smudged family favorite) and it took 23 minutes before Turbo.264 would begin converting it. That conversion took an additional 23 minutes. Certainly this was speedier than using HandBrake, but it did require a measure of babysitting.
Finally, to see how the mini did without the Turbo.H264 HD, I unplugged the dongle and ran the Fairmount Video_TS folder through Roxio's $80 (after rebate) Toast Titanium 10. While not as fast as with the Turbo (Toast with the dongle converted the video in 24 minutes), Toast managed the job more quickly than HandBrake—taking an hour and 26 minutes to complete the rip.
Radio
Terrestrial radio stations are increasingly streaming their content on the Web and, of course, Internet radio was born and thrives on the Web. That content is easy to find from within one of your favorite applications—iTunes. Just select Radio from iTunes' source list and you'll find 28 radio categories including Alternative, Blues, Classic Rock, Jazz, Latino, Public, Sports Radio, and Talk/Spoken Word. Within those categories are over 3,800 streams. There's a good chance your favorite radio stations are among those streams.
You don't have to play those streams within iTunes, however. Again, the point is to stay away from the Mac's interface when possible. Instead, just create a playlist, call it Radio, and drag the stations you like into that Radio playlist. When you wish to listen to one, just invoke Front Row, choose Music, select Playlists, choose your Radio playlist, and there's your collection of streams. Choose the one you want and the station plays through Front Row.

If you don't find a station you're after, put Google to work and find the station's Web site. Many stations stream their content and there's a fair-to-middling chance that when you click a station's Listen Live link, iTunes will open and the station will appear in iTunes main window as an MPEG audio stream. Although these audio streams don't appear within the Radio heading, they can also be copied to your Radio playlist.
If even that doesn't work and you're willing to abandon Front Row and use a Web browser, RadioTime streams more than 60,000 stations from around the globe. To enhance your RadioTime experience you can purchase Rogue Amoeba's $32 RadioShift and not only tune in to live streams, but schedule recordings so you can listen to your favorite programs whenever you like. Those recording are copied to an iTunes playlist, making them available from within Front Row.
Over the air
I'm not sure when the last time was that you looked at your cable- or satellite-TV bill, but there's a good chance that, per month, you're paying a whole lot more than nothing. And, in this tight economy (and given the wealth of online sources for television programming), nothing was what I was after. The means to getting something for nothing was Elgato's $150 EyeTV Hybrid television tuner. With this diminutive USB dongle plugged into my mini and an antenna plugged into the EyeTV Hybrid, I was able to pick up the few over-the-air TV channels available to me. Couple the Hybrid with the EyeTV software and I could schedule recordings of the major networks' programs.
The quality is as good as reception allows. Plus, the latest EyeTV Hybrid receives and records FM radio broadcasts. Oh sure, I missed out on the hundreds of channels offered by my satellite TV provider, but I was also looking at a savings of more than $80 a month. (And, honestly, given the free and less-expensive alternatives—as outlined in my Unthinkable? Unplugging the TV Playlist blog entry—I wasn't completely retreating from the media world.)
Beyond Front Row
Front Row is a good option for local and networked content, but it does nothing for video streamed across the Web. Again, you could turn to a Web browser, but surfing the Web from the couch to visit Hulu.com, Netflix, Comedy Central, PBS, and YouTube makes the Mac mini less than a friendly member of the AV family.
Thankfully there are a handful of third-party media center applications—based on the open-source XBMC—that present these streams in a unified and reasonably friendly interface. This handful includes XBMC itself, Plex, and Boxee.
Among them, Boxee may be roughest looking (XBMC and Plex have lovely interfaces) but, in my experience, it's the best implementation so far. While all these applications are updated frequently, Boxee seems to deal with incompatibilities more quickly than the others.
For example, Boxee and Hulu.com have been engaging in a well-publicized spat over Hulu's content. Boxee wants access to Hulu's TV shows and Hulu has taken every opportunity to pull the plug when Boxee gains that access. Boxee found a way to play Hulu's content via its RSS feeds and Hulu hasn't stopped it. Plex, on the other hand, continued to tell me that Hulu wasn't working a week after Boxee had made its way in. A Plex update issued earlier this week has brought the program up to speed and it now plays Hulu programming too.
In addition to Hulu, Boxee lets those with Netflix accounts play Netflix's Instant Watching streaming content within the application, thus avoiding a trip to a Web browser. (The Apple TV version of Boxee can't do this.) Granted, Netflix hasn't made its best stuff available for streaming, but it's not difficult to find something worth Instant Watching if you set your mind to it. Plex also supports Netflix streaming content but, as I write this, I can't get it to play through Plex.
All that said, Plex and XBMC are quite good and each of them is updated routinely. Boxee may get my approving nod today, but tomorrow it could be Plex or XBMC. It's worth your while to check out each one and switch between them every so often to see any new wrinkles they've added.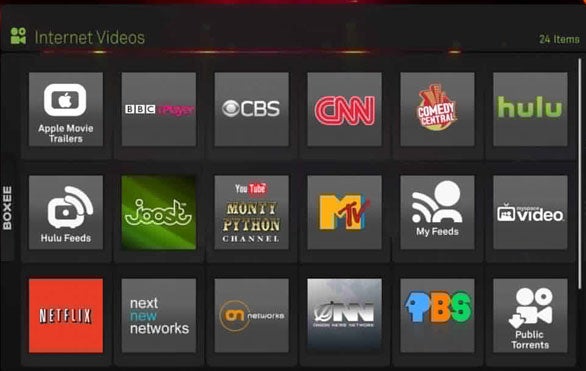 Boxee offers audio streams as well, including BBC, last.fm, NPR (podcasts), Pandora, RadioTime, and SHOUTcast. With Boxee installed on my Mac mini, I had one of the most powerful and far-reaching radios on the planet.
And if you want to eschew Front Row altogether, Boxee can assume its responsibilities. In addition to playing Internet content, Boxee can play unprotected video, music, and slideshows on your Mac and Macs connected to your local network. (Note the word unprotected. Boxee can't play movies and TV shows or protected music you've obtained from the iTunes Store.) Adding networked volumes to Boxee isn't nearly as easy as doing the same thing with Front Row. This YouTube tutorial showed me how it was done.
Forward!
My mini was configured, connected, and full of media. The final step was to control it and my AV system from across the room (and across the house). Tune in tomorrow for that story.
Updated story to correct statement regarding Video_TS compatibility with Front Row and other media player applications.
[Senior editor Christopher Breen blogs regularly about iPods, Apple TVs, and other accoutrements of the digital lifestyle at Macworld's Playlist blog.]