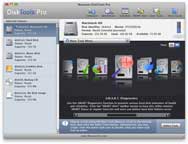 Macware on Tuesday announced an update to DiskTools Pro, the company's software utility for hard drive management. DiskTools Pro allows you to test and repair hard drive volumes, defragment files, create bootable backups, perform benchmark tests, and more.
According to Macware, the new release, version 3.5.1, includes improved support for Snow Leopard and reduced memory and CPU usage by the software itself. It also features two new interface elements: an animated, multi-view task selection interface, and a CPU meter that display the status of your system resources.
Other new features include the ability to schedule folder backups, new application preferences that help reduces battery drain on Mac laptops, and a monitor that tracks available storage space.
The 3.5.1 update is available for free to current owners of the software. If you have an older version of DiskTool Pro, you can update the software by selecting Check for Updates Now in the Update menu.
DiskTool Pro sells for $80 as a download or a boxed disc.