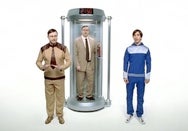 Remember those 'Get a Mac' advertisements we last saw towards the end of 2008 and have seen neither hide nor hair of since? Well, they're back and raring to take on the latest crop of Microsoft's absurd shenanigans.
In a quartet of thirty-second spots, the familiar duo of John Hodgman and Justin Long indulge in friendly sparring as they don biohazard suits, sort through tall stacks of photographs, and even try their hand at time travel.
The timing of these advertisements' launch has dealt a severe blow to my theory that Steve Jobs personally writes and directs every single one of these spots. I mean, if they weren't crafted by the man himself then aren't they just regular old commercials?
Alright, I'm just kidding—these are actually pretty decent spots and I did crack a smile watching the one about the legal copy. That said, I sure would love to see something new from Apple now. The 'Get a Mac' series has been around for a couple of years now and it's starting to get a bit long (no pun intended, honest) in the tooth.
[via TUAW]