One of Apple's new iPhone ads targets small businesses by showing them how they can use iPhone apps to process credit card transactions, print shipping labels and check on the delivery of an order.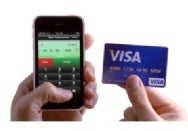 "There's an app for that" has become the standard refrain in a series of television advertisements that Apple runs during prime-time hours on commercial television. The ads show an iPhone in use with an off-screen narrator who describes all the things you can do on your iPhone, while The Submarines' You Me and the Bourgeoisie plays in the background.
The new ad, entitled "Office" and available for viewing on Apple's Web site, shows how small business users can use the iPhone to process credit card transactions using Inner Fence's Credit Card Terminal application; print a shipping label for a package using Print & Share; and check on the status of a delivery with FedEx Mobile.
"Yup, there's an app for just about anything," concludes the narration. "Only on the iPhone."