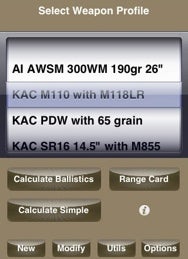 While we knew that some companies were trying to make iPod software to help military personnel, we didn't realize just to what extent the military has apparently gone gaga for the iPod.
In a recent issue of Newsweek magazine, under the headline " Apple's New Weapon," Benjamin Sutherland waxes eloquent about how the iPod touch specifically is being used for tasks as varied as translation, sharing data among soldiers, and even calculating ballistics.
The article points out that since the iPod touch is pretty familiar to most recruits, training soldiers to use the device and new software is pretty straightforward. The soldiers can easily upload new images, data, and software without much of a learning curve.
While I figured that the iPod could be used to play video and audio, Sutherland makes a key point: "Consider the impact of showing villagers a video message of a relaxed and respected local leader encouraging them to help root out insurgents."
Could this be the next Apple ad? Some random Iraqi sheikh rocking out?
Any of our readers out there in the military? What are your thoughts on using the iPod touch in the field?
[via net.effect]