Nvidia on Monday announced that their high-end Quadro FX 4800 graphics card is now available for the Mac. The card is coming in May, 2009 and will be available for $1800 from Apple and select Mac resellers and workstation integrators.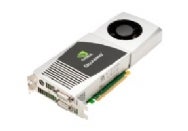 Nvidia's Quadro products are aimed at high-performance computational analysis and professional 3D visualization — architects, digital artists, medical scientists and others. Under the hood is a 1.5GB of graphics memory and memory bandwidth of up to 76.8 GB/sec. It features two Dual Link DVI connectors, suitable for connecting to 30-inch displays, as well as a three-pin mini-DIN connector for working with stereoscopic glasses.
Supporting Nvidia's CUDA's parallel computing technology, the Quadro can also be used to accelerate complex computational problems. CUDA is a precursor to the OpenCL technology Apple will introduce with the release of Mac OS X 10.6 "Snow Leopard."
The board is also supported by Boot Camp, as well, so it works with 3D software designed to run on Windows.
Nvidia indicates that the Quadro FX 4800 for Mac will also be available through its channel partners — PNY Technologies for the United States and Europe, the Middle East and Africa, Leadteck for Asia and Pacific regions, and Elsa for Japan.