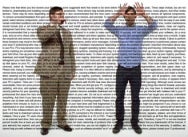 We all know someone who claims they can't tell the difference between HD and standard-definition video. Well, if being able to count the number of stitches on a baseball as it's flying towards the plate at 94mph doesn't convince them, maybe this will: In HD, you can actually read the onscreen legal copy in Apple's latest "Get a Mac" television ad, "Legal Copy."
If you haven't seen "Legal Copy"—you can view the ad on Apple's Web site—the hook is that each time John Hodgman's PC character says something of questionable veracity, a legal disclaimer appears on the screen in tiny, tiny print. As it turns out, this text isn't just some variant of lorem ipsum; it contains various bits of snarky commentary on Windows and the PCs that run it. (Some of that snark is well-deserved, but a good amount of it is blatant Windows-tweaking that's sure to rankle the folks in Redmond.)
If you don't have the eyesight—or the patience—to read all that tiny text, the folks over at MacJournals, publishers of the excellent Mac Daily and Mac Weekly Journals, have done all the hard work for you. For example, one bit of legal text reads:
To avoid sluggish operating systems, crashing and freezing, it is recommended that you clean up your system registry, defragment your hard drive, free up your disk space, and perform other routine maintenance tasks. To clean out your system registry, first backup your data, back up your registry, purchase, download, and install Registry Repair program, then quit all programs, scan registry, determine safe registry items to repair/delete/remove, select ok, and repeat if necessary. To defragment your hard drive, click start, and go to all programs > accessories > system tools > and open disk defragmenter, then select C: drive, select defragment and wait. To free up disk space on your PC, click start, go to all programs > accessories > system tools > and open disk cleanup. Scan will automatically start. From scan results, select files to be removed, select ok. Restarting your PC may then be necessary upon completion of system registry clean up, hard drive defragmentation, and disk space clean out.
MacJournals (correctly) points out that many of the procedures the ad implies are unique to Windows apply to all computers, including Macs. And Apple is opening itself up to the same sorts of accusations of dishonesty Microsoft has been facing with the latest "Laptop Hunters" ads. Still, the ad is more than a little amusing, especially to Mac fans who've bristled at the idea—implied in Microsoft's recent ads—that there are no real differences any more between Mac OS X and Windows.