Qliktech has been integrating their Qlikview software suite into some major companies' Enterprise Resource Planning (ERP) systems for a while now. For those who use Qlikview to help with ERP-related tasks, life just got a little easier: Qliktech has announced the release of an iPhone application that allows you to access your Qlikview data.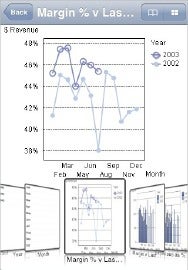 Business intelligence has come a long way in the past few years as companies are realizing the benefits of having up-to-date reports on different aspects of their operations. Analyzing sales data, optimizing inventory and handling transportation logistics are just some of the tasks that ERP systems are designed to help businesses manage, this sort of reporting is Qliktech's particular specialty. Qlikview helps businesses quickly develop reports based on data in their ERP systems, so they can more effective react to what's happening.
Qliktech's software is available for free download from the App Store and includes access to a demo Qlikview server, to help users get started. I downloaded it and used it to access the demo server; I found it to be very quick and easy. The layout mimics their desktop product with its dashboards and workflow—you drill down through variables to get the report you want. You can see information being updated in real-time and swipe through the different variables just like you would using iTunes, viewing your albums in Cover Flow.
You can also reposition your iPhone in landscape mode to use the full screen to view a chart or graph. If you want to zoom in a report, you can use a pinch gesture; the report scales pretty quickly.
Qliktech also leverages the iPhone's location awareness to pull up reports based on where you are. This is a nice little time saver for those who travel and have a lot of different locations to pull reports from.
I experienced a few crashes when flipping through the different variables, unfortunately. This is a 1.0 release and I would hope these problems get ironed out in the next release. All in all, this looks like a great tool for those who want real-time access to their business intelligence data and want to use their iPhone to get to it.